Pictures of Jennifer Aniston in LA — Exclusive Quotes From Brooklyn Decker on Just Go With It
PopSugar Exclusive: Brooklyn Decker Has Praise For "Generous" and "Patient" Jennifer Aniston
Jennifer Aniston wore her turquoise earrings yesterday for a visit to a spa in LA. She's home again in California after time in Hawaii, where she shot Just Go With It with costars Adam Sandler, Brooklyn Decker, and Nicole Kidman. We had a chance to chat with Brooklyn yesterday — lots more of her to come on Buzz and Fit! Brooklyn is doing double duty this summer as a spokeswoman for Gillette's Venus razors, but she also spoke about her film work with Jen and Nicole. The Sports Illustrated swimsuit edition cover model shared about her fellow actresses' encouraging ways, and even weighed in on their hula scene. Brooklyn said: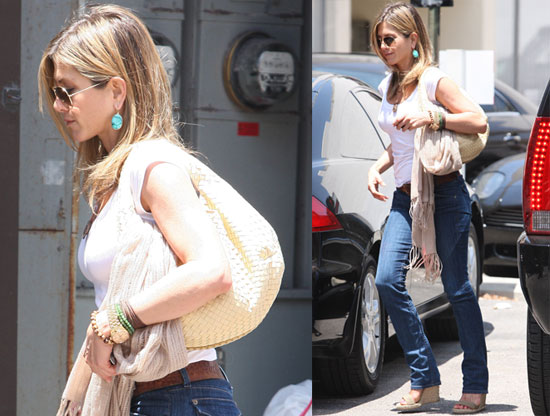 PopSugar: Did Jen and Nicole offer encouraging words?
Brooklyn Decker: They were so sweet, just the whole time they were so encouraging — they knew it was my first movie. So they were more than generous with being patient and just pulling me along the whole way.
PS: What was Jen like on set?
BD: She's such a team player, and such a pro — truly professional on set all the time. And there's a reason she's so successful and it's because she's such a pro at what she does.
PS: What did you make of Jen and Nicole's big hula scene?
BD: It was a really amazing scene, it's going to be so hysterical — the two of them together are unbelievable! But I wasn't there to even to get to be a part of the hula scene — I actually saw it on TV like everyone else did.
PS: As a Sports Illustrated model, did you have bikini advice for Jen and Nicole?
BD: From what I saw, the pictures I saw they're doing just fine getting into a bikini!