Pictures of Jennifer Lopez, Marc Anthony, and Paris Hilton at the 2010 World Music Awards 2010-05-18 17:00:00
J Lo Performs Her Hits For Marc, Paris, Nicky, and the World
Jennifer Lopez made a grand entrance at the World Music Awards in Monte Carlo this evening, escorted by Marc Anthony and wearing a full-length Roberto Cavalli animal print gown. She's been working on her tan aboard the designer's multimillion-dollar yacht off the coast of Monaco between spending time with her family, shopping and partying at Cannes events. Avatar's Michelle Rodriguez posed side by side with Heroes star Hayden Panettiere, who was modeling an up and away hair style and all smiles despite the recent canceling of the show.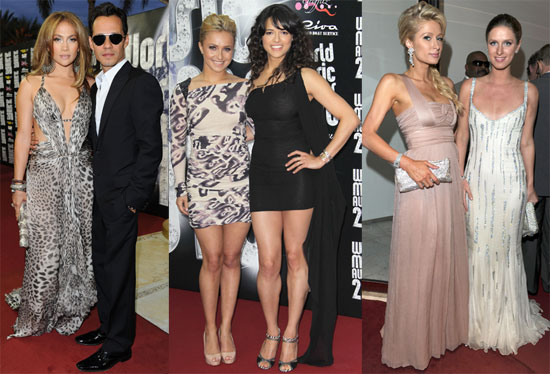 Hilton sisters Nicky and Paris made the evening a family affair, posing with their parents before handing out the award for best R&B artist. During the show, J Lo changed into a leg-baring Roberto Cavalli minidress to perform a medley of her hits. Paris Hilton was impressed by J Lo's act, tweeting a congratulatory message from the audience. Lopez later changed into her third Cavalli dress of the night to accept an achievement award for her contribution to music.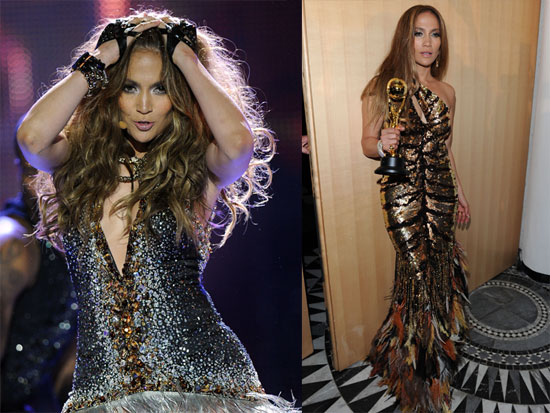 To see more photos of J Lo, Paris, and more just
.
Images include: Paris Hilton, Nicky Hilton, Jennifer Lopez, Marc Anthony, Roberto Cavalli, Hayden Panettiere, Ludacris, Michelle Rodriguez, Akon, Pharrell Williams, Wladimir Klitschko, Rachel Hunter, Kelly Rowland