Pictures of Jennifer Lopez, Rachel Zoe, Alexander Skarsgard, Taylor Swift, Emma Stone at Weinstein Company Oscar Party 2011-02-27 11:55:18
Taylor Swift, Emma Stone, Jennifer Lopez, and Nominees Party With Weinstein Pre-Oscars!
Hollywood was buzzing with pre-Oscars parties, and The Weinstein Company's bash was packed with A-listers. Good friends Taylor Swift and Emma Stone posed together inside the party, while hot Alexander Skarsgard was rolling solo. His True Blood costar Stephen Moyer was also without his lady, and Adrien Brody scoped the scene with Gerard Butler. Glee's Chord Overstreet, who was spotted out on a hockey date with Taylor last week, joined up with Dianna Agron and Jessica Szohr. Jennifer Lopez glowed on Marc Anthony's arm, and Rachel Zoe sported a dress from her collection, which showed off her baby bump. The King's Speech's Colin Firth is a favorite for today's best actor win, and he looked relaxed as he got a head start on the celebrating. Renée Zellweger and Bradley Cooper both stepped out for the soiree, and she sported a strapless dress that showed off her super toned arms. The red carpet is just hours away, so get ready for the big event by checking out all of Buzz's coverage and don't forget — we'll be LIVE on PopSugar starting at 3:30 p.m. PST/6:30 p.m. EST!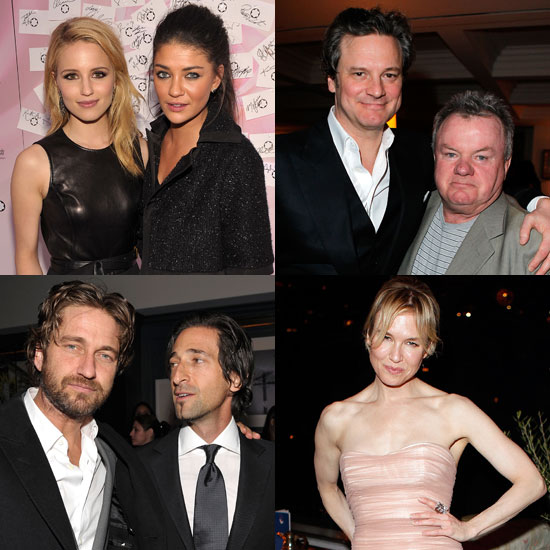 We'll be LIVE from the red carpet in just a few hours starting at 3:30 PST/6:30 EST, so watch here on PopSugar or follow us on Twitter for breaking news and photos.