Pictures of Joaquin Phoenix As Casey Affleck Screens Documentary I'm Still Here: The Lost Year of Joaquin Phoenix
Joaquin Phoenix Shows Off His Back and Allegedly Bares All in Casey Affleck's "Mocumentary"
Joaquin Phoenix gave a peek at his shirtless back as he tried to take off his top layer out on a walk with his dogs in LA yesterday. The clean-shaven actor has emerged back on the scene in recent months, leaving lots of fans wondering what to make of last year's bizarre bearded behavior. Now, he and his brother-in-law Casey Affleck are apparently shopping around the movie they made about the time period and it's left early viewers unsure as ever about whether everything was real or a hoax. The film called I'm Still Here: The Lost Year of Joaquin Phoenix allegedly includes lots of drug use, full frontal male nudity, his attempt at a rap career and of course that infamous Letterman appearance. It sounds unclear whether this movie will ever be released, but there are certainly a lot of people out there who would like a peek behind the scenes at Joaquin's interesting journey.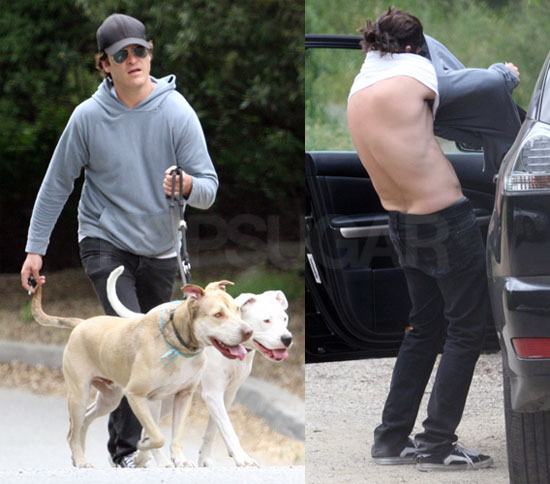 To see more of Joaquin, just
.