Pictures of Johnny Depp as Jack Sparrow Visiting Elementary School
Johnny Depp Surprises School Kids as Captain Jack Sparrow!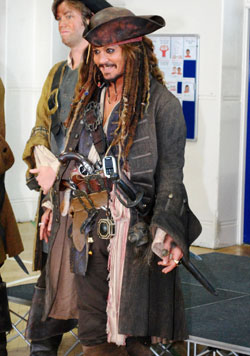 Johnny Depp made a special trip to a London elementary school yesterday fully in character as Captain Jack Sparrow. He surprised a classroom of kids after one student sent him a letter pleading for his help in "mutinying against the teachers." Captain Jack arrived for the fun visit with a gang of pirates and declared that they would "take over the school and eat nothing but candy," though he decided it might not be a good idea since the police were outside monitoring him.
Johnny was on a break from filming Pirates of the Caribbean: On Stranger Tides while his costar Penelope Cruz returned from her latest travels showing off her baby bump. We got a glimpse of Johnny and another of his hot leading ladies, Angelina Jolie, in the latest trailer for The Tourist, which was released alongside new photos of the hot duo on set.