Pictures of Justin Bieber and Kim Kardashian Holding Hands For a Photo Shoot in the Bahamas
Kim Kardashian Splashes Around In the Waves With Justin Bieber!
Kim Kardashian joined Justin Bieber on the beach yesterday for a playful afternoon photo shoot at the Atlantis resort in the Bahamas. The pair was perfectly coiffed for their time in front of the camera, but Kim later joked that she had the privilege of messing up his iconic hairdo. The island was the latest stop on Kim's tropical weekend itinerary, which also included a stay in Miami for a seaside stroll on Friday and a bikini-filled bachelorette party with Christina Aguilera on Saturday. Kim and Justin were in for more celebrating after their work was done, since they both just picked up nominations at this year's Teen Choice Awards.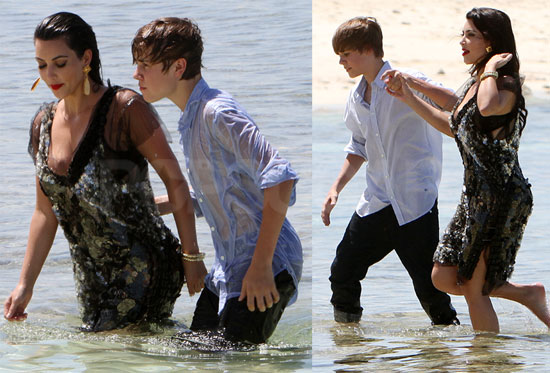 To see more photos of Justin and Kim on the beach, just
.