Pictures of Katie Holmes, Liev Schreiber, Scarlett Johansson, Will Smith, And Ryan Reynolds at The Tonys 2010-06-14 07:05:00
Scarlett Sweetly Thanks Ryan During Her Big Tonys Night With Denzel, Beyonce, and Katie
Broadway's best gathered in NYC last night for the Tony Awards. Both Scarlett Johansson and Liev Schreiber were nominated for their work in A View From the Bridge, and they brought along their significant others for support. Liev posed with an RM by Roland Mouret-wearing Naomi Watts on the red carpet, but, as usual, Scarlett and her husband, Ryan Reynolds, kept their distance in front of the photographers. Lea Michele wore Zac Posen to join Matthew Morrison in representing Glee, as their costars wrapped up their European travels promoting their show at the Monte Carlo TV Festival. Scarlett, in Elie Saab, was one of the ceremony's early winners, taking home an award for Best Featured Actress in a Play. She thanked Ryan from the podium, calling him, "My Canadian, who I live with, Ryan."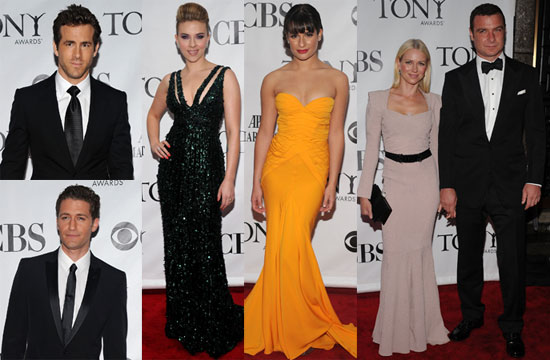 Jay-Z and Beyonce Knowles were seated in the audience after a busy weekend — they started off with his performance at the Isle of Wight Festival in the UK, before heading to Bonnaroo and onto the Big Apple. Lea and Matthew, meanwhile, went from the arrivals area to the stage to perform a show tunes medley. Will Smith and Jada Pinkett-Smith celebrated their son Jaden's taking the number one spot at the weekend box office with The Karate Kid by handing out an award together. Katie Holmes was decked out in gray to present alongside Daniel Radcliffe, and Denzel Washington was another of the night's honorees for his performance in Fences — make sure to check out the full list of winners.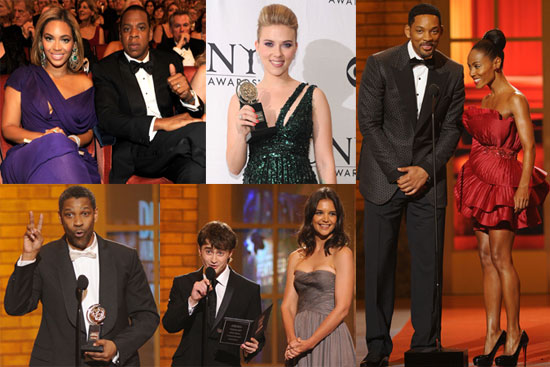 To see more from the Tony Awards, just read more.
Images include: Scarlett Johansson, Liev Schreiber, Ryan Reynolds, Matthew Morrison, Tony Shalhoub, Katie Holmes, Will Smith, Jada Pinkett-Smith, Helen Mirren, Jay-Z, Beyonce Knowles, Denzel Washington, Michael Douglas, Catherine Zeta-Jones, Kerry Washington, Naomi Watts, Cate Blanchett, Sean Hayes, Paula Abdul, Kristin Chenoweth, Daniel Radcliffe