Pictures of Katy Perry's Bachelorette Party in Las Vegas With Rihanna
Katy and Rihanna Mix Bikinis and Booze For a Bachelorette Weekend in Vegas
Rihanna stuck by Katy Perry's side in Las Vegas on Saturday as they went from the pool to the club for Katy's bachelorette party. Katy arrived in Sin City after an unfortunate altercation on Friday at LAX, where her fiancé Russell Brand was arrested for defending her when a photographer tried to take an inappropriate photo. Russell posted bail and was released the same day, later joking on Twitter, "Thanks for your sweet messages of support. After the tips I picked up in chokey I'm an infinitely more proficient criminal." Katy didn't let the turn of events ruin her weekend, as she donned a white swimsuit with a veil attached to party at the Hard Rock Hotel's pool with friends.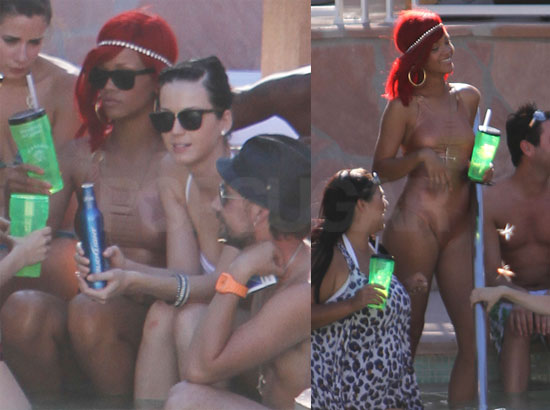 Katy and Rihanna switched gears by nighttime to take in a Cirque du Soleil show at the MGM Grand. It was Rihanna who wore white, though, as they moved on to Vanity to continue their long day of drinking. Katy's joked about the getaway being the "last party of her life" before marrying sensitive and sweet Russell in a ceremony rumored to be happening soon.
To see more from Katy's bachelorette weekend, just read more.