Pictures of Kellan Lutz Shirtless And Wearing a Loincloth on The Set of Immortals
Six-Pack Alert — Kellan Lutz Wears Next to Nothing Shirtless in a Loincloth on Set!
Kellan Lutz wore only a loincloth and his running shoes to get sized up for his costume on the set of his new movie, Immortals, in Montreal today. He wrapped up a weekend of doing press for Eclipse in LA and he's already in Canada ready to work on his next project. His wardrobe for the film is apparently a small one, since Kellan was going shirtless and showing off a lot of leg! The sight of Kellan's abs is, fortunately, not rare, and we recently got treated to his six-pack with his hot cover of Men's Health. He stayed busy during the fitting session by being glued to his phone, which he used to respond to fans on Twitter.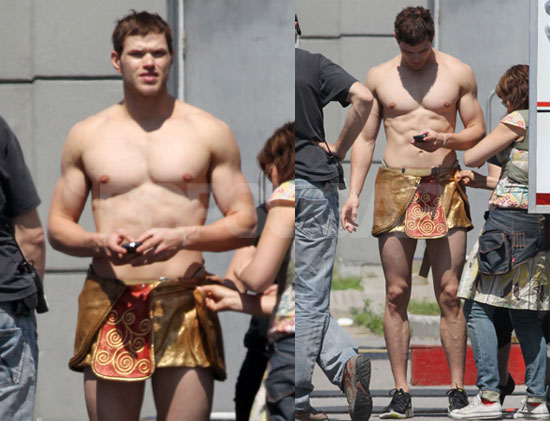 To see more Kellan shirtless, just read more.