Pictures of Knox and Vivienne Jolie-Pitt With Angelina in Budapest
Angelina Jolie Brings Out Adorable Knox and Vivienne in Budapest!
Angelina Jolie had two-year-old Knox and Vivienne for company as they checked out the sights in Budapest, Hungary today where she is reportedly researching locations for a new movie about Bosnia after a stop in the nearby country earlier in the weekend. The trio has been making the rounds in Europe while Angelina promotes Salt with premieres in Berlin, Paris and London. Angelina happily revealed that this overseas jaunt is her special twin time which included this sunny Saturday afternoon with the blond toddlers. Angelina was sporting one of her standby black dresses, but she's actually incorporated some color into her fashion picks this week. She's also been doing a handful of international interviews, where of course the conversation topic of choice is her family life and Angelina has nothing but gushing words about her partner Brad and the beautiful chaos they create together.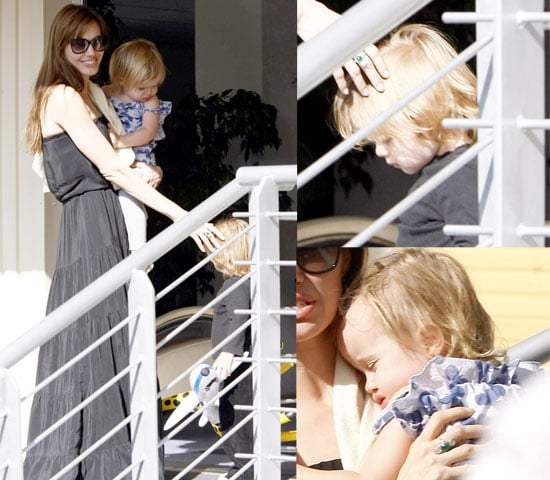 To see more of Angelina, Knox and Viv just read more.