Pictures of Kristen Stewart, Kellan Lutz, Ashley Greene, Peter Facinelli, And Jackson Rathbone Taking Breaks at Eclipse Junket
Kristen Takes a Break With the Eclipse Cast as New Moon Picks Up Teen Choice Nominations!
The Eclipse cast gathered in LA this weekend for their big junket, and many of the stars stepped outside to get fresh air during breaks. Xavier Samuel and Dakota Fanning were on one balcony, with Jackson Rathbone, Ashley Greene, and Kellan Lutz sharing another off their suite. Ashley and Kellan stuck together and during our interview joked about their dueling bikini and shirtless magazine covers. Peter Facinelli, meanwhile, had a quick smoke after bonding with his on-screen wife. Kristen Stewart lit up and shared an animated conversation similar to her adorable and expressive Q&A session with Robert Pattinson the day before. Speaking of Rob, his press day was shorter than everyone else's as he's still putting in long hours on Water for Elephants. The whole gang gets along well, and they'll have another chance to reconvene at the Teen Choice Awards. The nominees were just announced, and New Moon is up five times — check out the full list.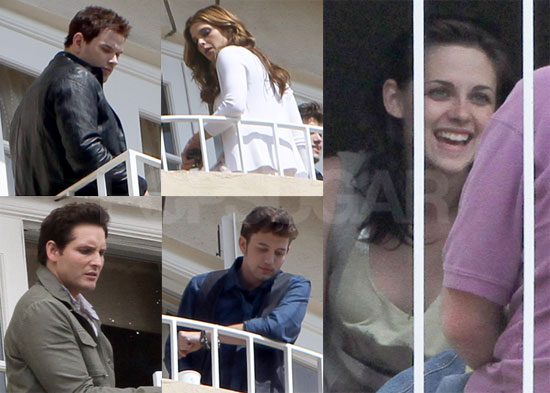 To see more from the big Eclipse weekend, just
.