Pictures of Kristen Stewart And Taylor Lautner at The South Korean Premiere of Eclipse 2010-06-03 08:27:01
Kristen Stewart Looks Sexy and Shows Leg at the Seoul Premiere of Eclipse With Taylor!
Kristen Stewart and Taylor Lautner were together this morning in Seoul for an Eclipse press conference, and they changed into fancier clothes for a big premiere there this evening. She opted for her latest leggy style, looking gorgeous in a black Prabal Gurung dress and a sleek ponytail — her hair was extra-long thanks to new extensions! Both Kristen and Taylor signed autographs for fans before posing on the red carpet and accepting South Korean sports jerseys. They're getting into a promotional routine after a tour of Australia, and soon Kristen and Taylor will bring their skills back to the US to reunite with the equally hard-working Robert Pattinson.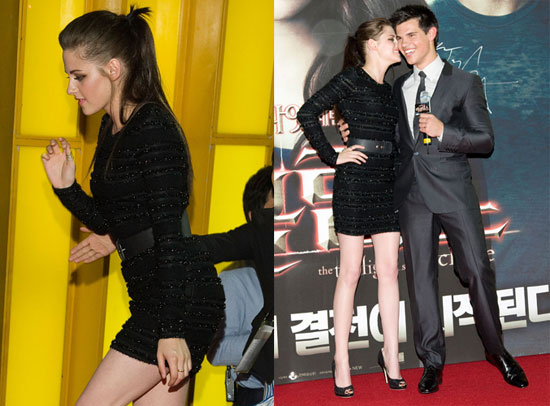 To see more Kristen just read more.