Pictures of Lindsay Lohan Going to Court
Are You Following Lindsay Lohan's Latest Legal Drama?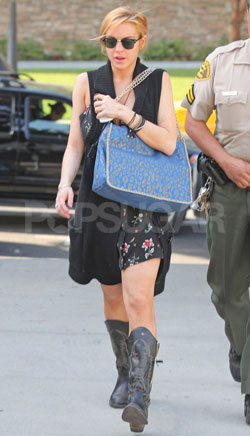 Lindsay Lohan reported to an LA court today to meet with her parole office about allegations that she stole a $2,500 necklace. Her legal drama didn't get in the way of her weekend fun, though, as she joined Kanye West for a fashionable Friday night out on the town. Lindsay is in hot water over the missing piece of jewelry, which she apparently had enough cash to pay for on the day she walked right out of a store wearing it. Despite the interventions of her lawyers, however, Lindsay is now apparently going to be charged with a felony, a crime that carries up to three years in prison if convicted. It's a lot for the starlet who was only released from rehab last month and tomorrow she will face a judge to see what happens next. So tell us — are you following Lindsay's latest legal drama?