Pictures of Lindsay Lohan, Naomi Watts, Paris Hilton, Kate Beckinsale and Others at Cannes Chopard Party 2010-05-18 05:00:00
Chopard Brings Out Beauties Like Naomi, Kate, LL, and Paris Who Cannes Celebrate!
Lindsay Lohan bucked the gown trend and opted for a short, tight, white dress for the Chopard 150th Anniversary Party during Cannes last night. LL has been partying all over the Riviera while she's in trouble back home in LA, where her lawyer reiterated that Lindsay needs to be back for her Thursday court date. Kate Beckinsale continues to grace as many red carpets as possible as one of the festival's judges. Naomi Watts is in France to premiere both Fair Game and her Woody Allen project You Will Meet A Tall Dark Stranger while Marion Cotillard was fresh off the Christian Dior cruise show in Shanghai. Paris Hilton twittered updates throughout the evening, and was especially excited to tell Nicole Richie that her dad Lionel performed.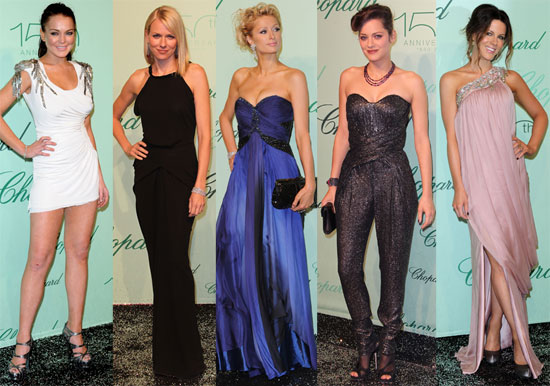 To see more from the party including Meg Ryan, Naomi Campbell, Margherita Missoni, and others, just
.
Images include: Billy Zane, Kate Beckinsale, Lindsay Lohan, Margherita Missoni, Marion Cotillard, Meg Ryan, Naomi Watts, Naomi Campbell, Nicky Hilton, Paris Hilton, Rick Hilton, Barron Hilton, Kathy Hilton