Pictures of Matt Damon Accepting an Award From Save the Children 2010-05-22 07:00:00
Matt Damon Rocks and Prepares For His Next "Little Tornado"
Matt Damon was the guest of honor last night at Save the Children's Celebration of Hope event in Greenwich, CT. His pregnant wife, Luciana, was seated next to him for the formal dinner, and Matt talked about how they're getting ready for number four, saying, "We're bracing ourselves for our next little tornado." He and Luciana missed out on watching Matt's cameo as an airline pilot named Carol on the season finale of 30 Rock. Matt will trade the small screen for the big when his The Adjustment Bureau arrives in theaters later this year — check out the intense trailer featuring Matt and his costar Emily Blunt. While Matt's tending to his philanthropic side, Emily was off in Cannes doing her own good work at the amfAR benefit gala.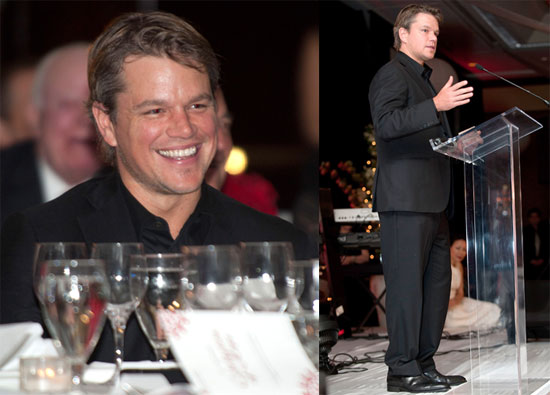 To see more photos of Matt and Luciana just
.