Pictures of Matt Damon and Clint Eastwood on the Cover of Men's Journal 2010-10-26 12:30:00
Matt Damon Shares His Love of Clint Eastwood in Men's Journal
Matt Damon and Clint Eastwood teamed up for the current cover of Men's Journal. The actor and director opened up about their new film Hereafter, which they've promoted together on The Early Show and at their NYC premiere. In addition to the movie's release, October was a major month for Matt personally — he just welcomed his baby girl Stella and turned 40 on Oct. 8. He and Clint, who is now exactly twice Matt's age, showed off their rapport in the interview as they discussed their friendship and filmmaking philosophies. They said: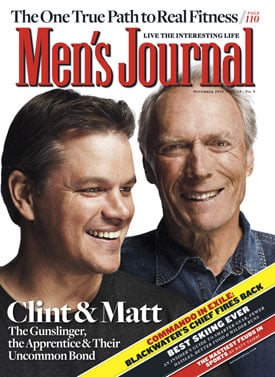 Matt on how he met Clint: "We met in a bar, a gay bar. I saw something in him through the eye slits of the Hannibal Lecter mask that he was wearing."
Matt on his character in The Departed: "I went up to Marty [Scorsese] and said, 'I want to lose every fight I'm in and I don't want my dick to work.' Anybody I've met in my life who really is tough, there's no swagger, there's no raising your voice. You sit down and talk to a guy from the Delta Force, it's very pleasant and calm."
Clint on Matt's talents: "You get a feeling about somebody that they're the kind of person who just likes to stand and deliver. And he is. He knows — he instinctively knows [what it takes to be a good director]. When he directs he's going to be great at it because he understands actors."