Pictures of Matt Damon With Daughter Isabella in NYC
Matt Leaves Luciana and Stella at Home For a Stroll With Isabella
Matt Damon protected his daughter Isabella from the rain as they took a walk near their home in NYC earlier today. The Damon family has been sticking close to their apartment for the last month since they welcomed baby Stella in late October. He's now focusing on his family during a break from film work, but his upcoming big-screen projects aren't far from his mind. Matt recently granted an interview to EW in which he discussed his philanthropic endeavors, being a father of four, and his upcoming Coen brothers movie True Grit. Matt said: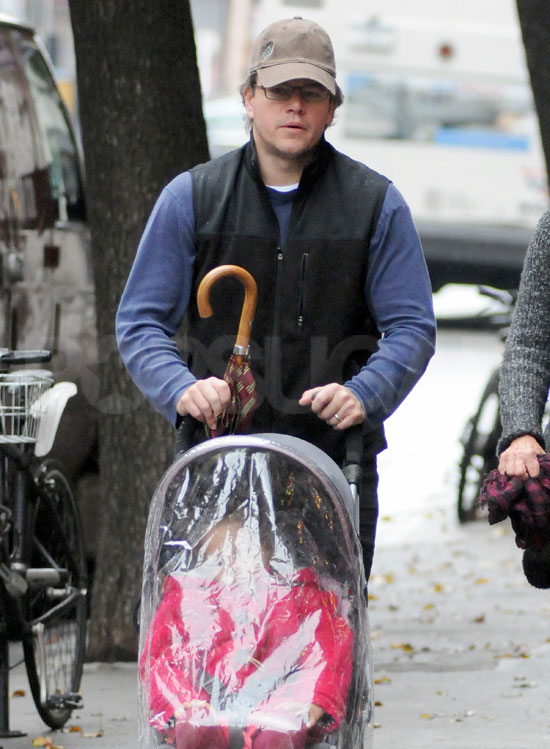 On not sleeping: "I've learned that if you decide not to sleep, you pick up all these extra hours in the day. We came home from the hospital the other night, and we were up with the baby and the alarm went off. And I realized, 'Oh, s—, I've got to take the other kids to school!' Their lives don't stop because we had a baby. So it's a little relentless, but I mean that in a good way."
On balancing family and shooting True Grit: "I asked them to schedule me so I wouldn't be away from my kids for too long. I'd shoot for four days in Texas, and then I'd get off the plane and run home and say to my wife, 'Oh, I had this line…' and I'd start acting it out for her."
On his work with Water.org: "Every 15 seconds, a kid is dying because he or she doesn't have access to clean water and sanitation. It's pretty staggering. In America, you can just walk over to the faucet and get a drink of water. So it's hard to wrap your brain around the notion that there are little girls who can't go to school because they're spending their days gathering water. Dehydration is a ridiculous way to die in this day and age."