Pictures of Natalie Portman, Colin Firth, Gwyneth Paltrow and More at the 2011 Vanity Fair Oscars Bash
Oscar Winners Natalie and Colin Party With Gwyneth, Reese, Sandra, and More Inside Vanity Fair's Bash
Vanity Fair pulled off another star-studded Oscars party last night. Some stars, like Jon Hamm, Jennifer Westfeldt, Emma Stone, Anna Paquin, and Stephen Moyer, arrived earlier to eat dinner and watch the show on TV, while others turned up after attending the big event hosted by Anne Hathaway and James Franco in person. Reese Witherspoon, who wowed in a Giorgi Armani gown, was solo on the red carpet before the show, but once at the bash she met up with her fiancé, Jim Toth. Cameron Diaz and one of the evening's performers, Gwyneth Paltrow, made it a ladies night as they caught up in a corner, but young lovers Justin Bieber and Selena Gomez hardly left each other's sides. Natalie Portman and Colin Firth, the best actor and actress winners, walked inside with the best accessory possible, their Academy Award. She stuck close by her fiancé, Benjamin Millepied, following her stint in the press room talking about their baby, while Colin was finally able to get in some dancing with his wife.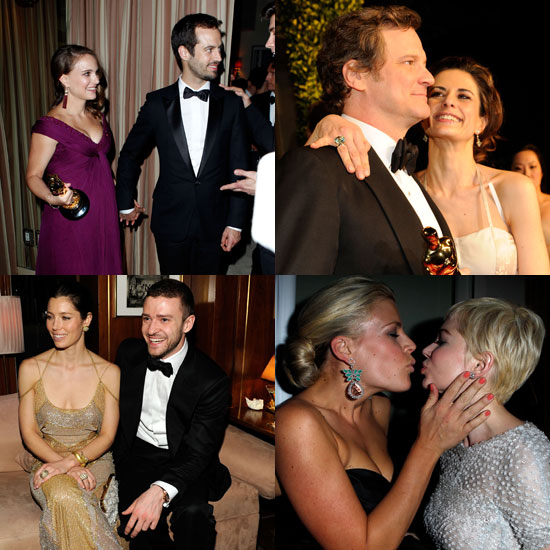 Plenty of other Hollywood couples were able to sneak in PDA, as Justin Timberlake and Jessica Biel cuddled up on a couch. Madonna chose to make things a family affair, showing skin in a lacy black dress alongside her daughter Lourdes. For others, it was about catching up with old friends. Jake Gyllenhaal had a nice chat with 50 Cent, and newly single stars Jude Law and Scarlett Johansson shared a moment documented in pictures. Michelle Williams, who was nominated for the best actress honor that ultimately went to Natalie, spent the whole evening with her friend and date Busy Philipps. Selena momentarily left Justin Bieber to catch up with her friend Taylor Swift, who managed to not be photographed anywhere near her ex Jake. He also had another former love, Reese, to avoid as well. There are plenty of other big bashes from last night, so stay tuned to see lots more photos and make sure to check out all of our fashion and beauty coverage!
To see more photos from the bash, just read more.