Pictures of Orlando Bloom Getting an Honorary Degree From the University of Kent
Orlando Bloom Shares His Hometown Honor With His Family and Miranda!
Orlando Bloom was the proud recipient of an honorary degree from the University of Kent this morning in Canterbury, England. He sweetly picked up his fiancée, Miranda Kerr, from Heathrow last week, and she was there to watch Orlando accept his diploma. Orlando, who has his undergrad degree from London's Guildhall School of Music and Drama, was also excited to share the day with his sister, Samantha, and parents, Sonia and Colin. Orlando said, "It's a really big deal. It's an exciting day for me. I'm really honoured to be back in my home town. I have so many amazing memories of the cathedral and Canterbury. I have lived near the university so it's like my playground. It's a huge, huge honour and I feel chuffed, as does my mother — nobody more than my mother." The Bloom family has lots to celebrate this Summer between Orlando's latest achievement and his upcoming wedding to Miranda.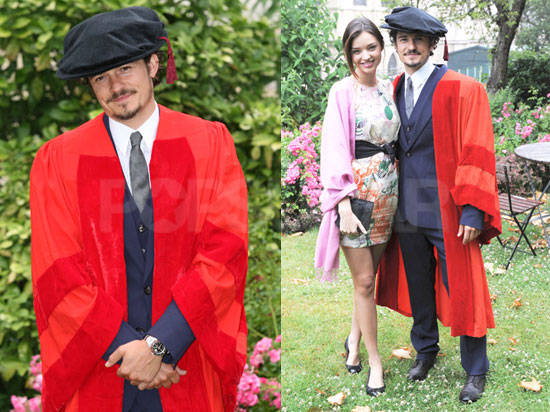 To see more Orlando, just read more.