Pictures of Paris Hilton, Lindsay Lohan, Javier Bardem, and Naomi Watts During the 2010 Cannes Film Festival
Javier, Lindsay, Naomi, and Josh Have Working Weekends at Cannes
The action at the Cannes Film Festival rolled on over the weekend, and Javier Bardem was up this morning to join his Biutiful director Alejandro Gonzalez Inarritu for a photo call. Paris Hilton, meanwhile, took her yacht over to nearby Monaco to keep her good times rolling on Saturday night with her sister, Nicky. Lindsay Lohan arrived in France to promote her new Linda Lovelace movie on Saturday after a short stay in NYC, where she found trouble during a night out at 1Oak by allegedly tossing a drink on model Jessica Stam and Rangers player Sean Avery. Her social problems come in the midst of her ongoing legal issues — she's due back in court in LA on Thursday and is facing jail time for not completing all of her required alcohol education classes.
Lindsay didn't waste any time in hitting a friend's boat party last night, leaving afterward seeming a little worse for wear. Jennifer Hudson, though, looked fantastic on Saturday when she attended a cocktail party for Winnie. Josh Brolin switched gears from Money Never Sleeps with his too cute costars Shia LaBeouf and Carey Mulligan to promote Woody Allen's You Will Meet a Tall Dark Stranger. He joined Naomi Watts for their press conference on Saturday before bringing out his wife, Diane Lane, for their big premiere that evening.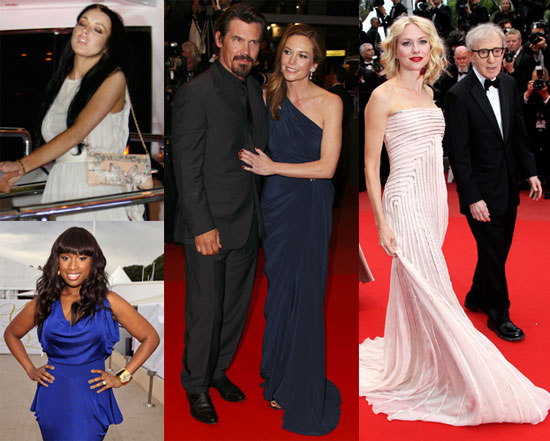 To see more from France just read more.
Images include: Paris Hilton, Lindsay Lohan, Naomi Watts, Nicky Hilton, Woody Allen, Diane Lane, Jennifer Hudson, Javier Bardem, Josh Brolin, Alejandro Gonzalez Inarritu, Lucy Punch