Pictures of Paris Hilton, Michelle Williams, Diane Kruger And More at The 2010 AmfAR Benefit at Cannes 2010-05-20 13:30:00
Michelle, Jennifer and More Get Fancy for AmfAR Event
This evening's amfAR benefit during Cannes brought out many of the stars who have been celebrating at the festival for the past week. Diane Kruger is back in France from a quick trip to NYC with Joshua Jackson and decked out in Chanel to pose for photos near Karl Lagerfeld himself. Jennifer Lopez got fancy after her breakfast with daughter Emme to step out with her husband Marc Anthony. Michelle Williams stuck with short, though dressier than the tight skirt from her early press conference with Blue Valentine costar Ryan Gosling, and Rachel Bilson wore a long strapless gown.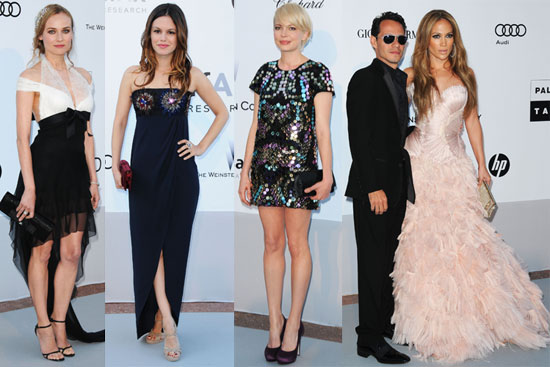 Emily Blunt put on her latest gown to join Marion Cotillard and Kate Beckinsale. Old friends Kirsten Dunst and James Franco took a moment to snap photos together before heading over to the party. There are plenty more hot guys expected at the benefit as well, including Ryan and more. amfAr's event usually included fun celebrity auctions like last year's kiss from Robert Pattinson, so stay turned for photos from inside and the assorted afterparties!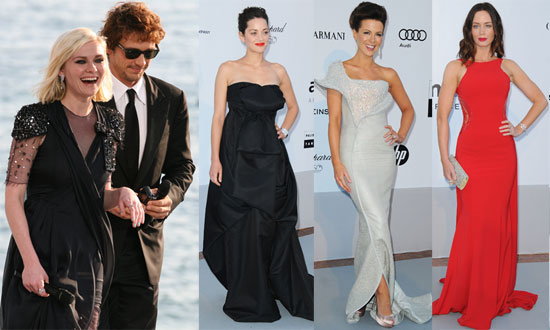 To see more pictures from the amfAR event just
.
Images include: Joely Richardson, Tom Ford, Michelle Williams, Gerard Butler, Marion Cotillard, Mischa Barton, Ivanka Trump, Emily Blunt, Paris Hilton, Kenneth Cole, Rachel Bilson, Giorgio Armani, Diane Kruger, Elizabeth Banks, Jennifer Lopez, Marc Anthony, Kate Beckinsale, Naomi Campbell, Vladislav Doronin