Pictures of Paris and Nicky Hilton in Bikinis
Pics: Paris and Nicky Hilton Get Showered in Champagne at Bikini-Filled St. Tropez Party!
Paris and Nicky Hilton kept their sunny Mediterranean vacation going this afternoon with a champagne-filled bash at the La Voile Rouge bar in St. Tropez. Paris was the life of the party, happily getting doused in bubbly while dancing with guests and showing her sister some love. Paris also sprayed fans with what she wasn't busy drinking. They've been playing hard during their lengthy trip abroad, which included a day of jet skiing earlier this week. The sisters have also made time for shopping in between all the bikini action.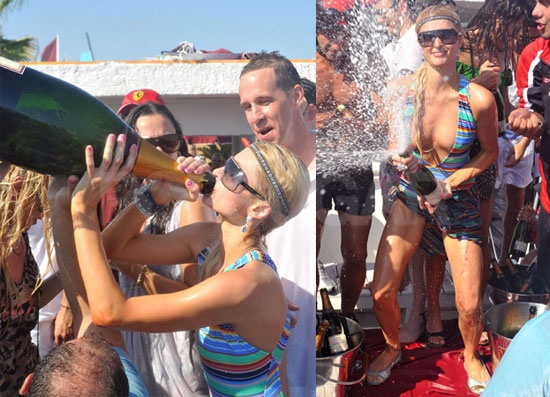 Paris and Nicky continued the action back on their yacht, where they changed into new swimsuits and were spotted jumping off the top of the deck and diving into the water below. Paris grabbed a floaty and kept the champagne flowing while her attendants looked on. The girls were getting the celebration started early before tomorrow night's Cream Party that they are hosting, and if their day in the sun is any indication, it's sure to be a hit.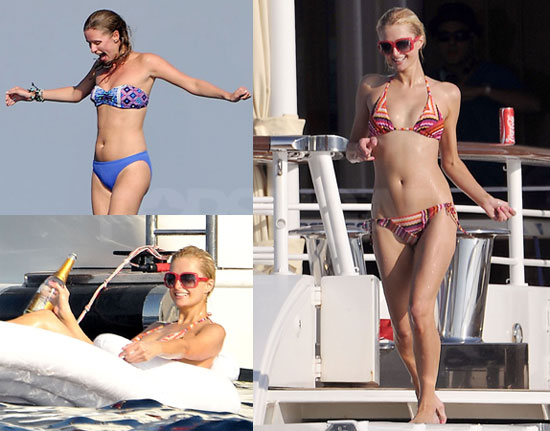 To see more Paris and Nicky in bikinis, just
.