Pictures of Pregnant Christina Applegate, Shirtless Sam Trammell at Celebrity Surfing Event
Pregnant Christina Applegate Watches Shirtless Guys Surf in Malibu!
Christina Applegate stuck to watching from the beach as her shirtless fiancé Martyn LeNoble tested out his surfing skills at the Surfrider Foundation's 5th annual celebrity expression session in Malibu on Saturday. It was her second philanthropic event of the weekend after attending Friday's Stand Up 2 Cancer telethon. Sam Trammell, who's come a long way in terms of career and hotness, stripped off his wetsuit to show off his abs after hitting the waves. The dramatic season three finale of True Blood aired last night and on it Sam's character took a turn for the dark side. Anthony Kiedis and One Tree Hill's Austin Nichols also tested the waters during the fun, athletic, shirtless guy-filled afternoon by the ocean.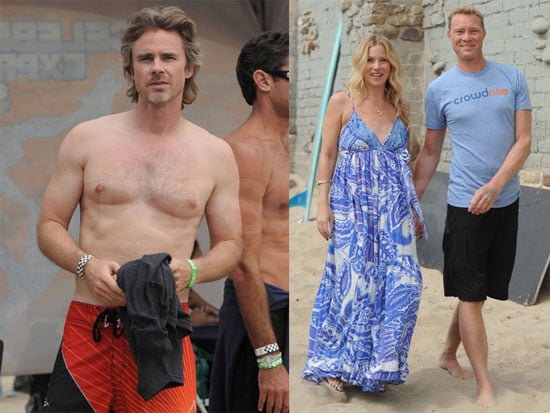 To see more photos of Sam Trammell, Anthony Kiedis, and Austin Nichols surfing, just read more.