Pictures And Quotes From Jennifer Aniston About Her New Fragrance Lolavie 2010-04-16 09:40:57
Jennifer Aniston Releases Her First Ad For Lolavie and Talks About Her Scent!
Jennifer Aniston's first ad image for her new fragrance, Lolavie, is out, and it features the actress lounging on the beach in Cabo. She opened up to WWD about the process behind its creation and revealed that she'll launch the perfume this Summer at Harrods in London with a special in-store appearance. It's Jen's first foray into creating a product, though the field of celebrity fragrances is certainly a crowded one. Jen discussed how she tried to make her scent unique, and she also touched on her career in film and aspirations to direct. She said: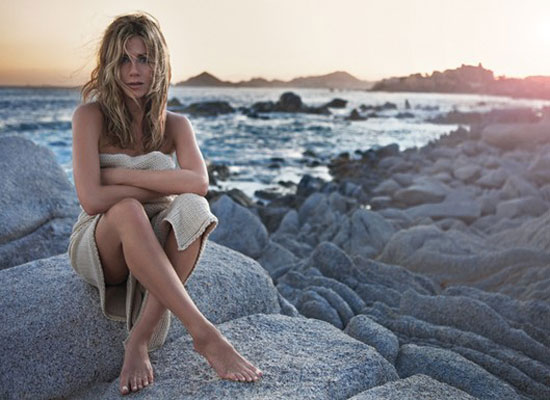 On the name Lolavie: "It's a long story and honestly it's too personal to tell. But it has special significance."
On controlling her public image: "I don't think you can control that at the end of the day. You can't stunt what you do to please or not please the public. And the media will create stories whether they are true or false. So why stop doing what makes you happy? Be true to yourself and everything else will follow."
On getting dramatic in her upcoming film Buttercup: "Obviously, I'm drawn to comedy, good or bad. But I love doing parts that are different and I sprinkle those throughout to get creatively unstuck."
On the possibility of directing: "I have a project in development I'm going to direct. After you get enough movies under your belt, you sit back and go, 'What's next?' It's getting to be the time where creatively I want to turn in a different direction."
To see what Jen has to say all about the scent just read more.
On the process behind the scent: "It's been a year-and-a-half journey. I'd been asked to do things before, and it never felt organic. But when Leon [Falic, president of the Falic Fashion Group] approached me to be involved with the process from inception to fruition, I thought, 'This could be a creative expression.' And it's turned out to be an extension of myself as opposed to slapping my name on something."
On her goals for the scent: "I want people to go, 'What is that? You smell great!' But most of all I wanted it to smell natural."
On deciding this was the right project: "I felt like a little chemist . . . The way I was approached, given such involvement, I never felt like, 'Oh, gosh, I shouldn't do this.' And if something is good, it doesn't matter if the marketplace is crowded. I thought it was an opportunity to go behind the scenes, and if it feels good, why not go for it? It's like being a producer and knowing the writers and stirring up ideas as opposed to being an actor for hire."