Pictures of Robert Pattinson, Kristen Stewart, Cast of Eclipse at Jimmy Kimmel
Jimmy Kimmel Has a Total Eclipse With Robert, Kristen, Taylor, and More!
The cast of Eclipse shared the evening with 750 or so lucky fans last night for a very special episode of Jimmy Kimmel Live. The show won't air until June 23, one week before the movie hits theaters and the evening before the big LA premiere. Robert Pattinson caused the most fan pandemonium as he smiled and waved on his way into the event wearing a suit while Kristen Stewart was casual in her t-shirt and jeans before changing into another sexy little dress to step on stage. Ashley Greene stood out in her bright number even without her partner in crime Kellan Lutz, who had obligations elsewhere that kept him from this interview. Peter Facinelli looked handsome in his suit, and Taylor Lautner flashed that charming smile.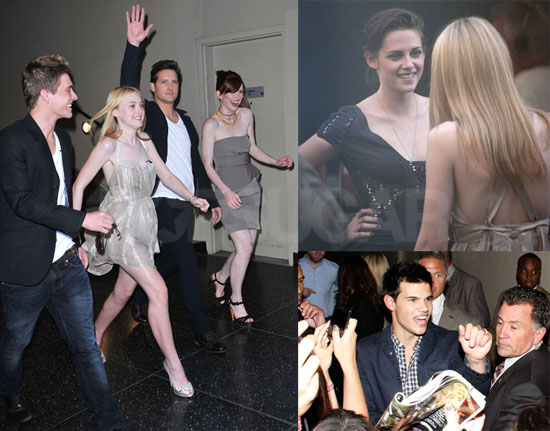 On stage, the costars took their chairs and got ready to field questions from the large audience. Topics ranged from favorite karaoke songs — apparently Kristen's a fan of Miley Cyrus's "Party in the USA" — to playing the Twilight board game. Despite a demanding last few days of press, the whole crew looked like they were full of energy to interact with the sea of fans. Rob also apparently kept things light the whole time with his usual string of jokes. Eclipse is two weeks away and all the excitement is in full swing — stay tuned for all our junket interviews, and we're just hours away from unveiling our PopSugar 100 so we'll finally see where all the Twilight stars landed after another amazing year!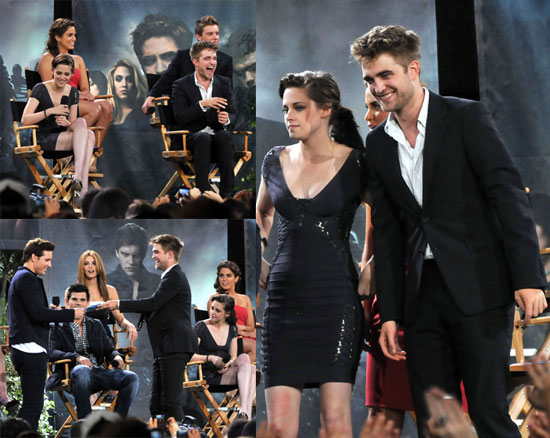 To see more of the cast of Eclipse, just read more.