Pictures of Russell Brand Promoting Get Him to The Greek in NYC
Russell Brand Spills Details of His Proposal to Katy Perry in Elle
Russell Brand has been in NYC for the past few days doing press for Get Him to the Greek, and yesterday he was at the Mandarin Oriental hotel for the junket before putting on a vest this morning at The Today Show. He spoke with us yesterday about his upcoming wedding to Katy Perry, saying that they're still working out the exact details because it's "really expensive!" It turns out that he and Katy just sent out their save the date cards to guests — they requested loved ones reserve a whole week in October and get their passports ready! Russell opened up about how he popped the question last year, telling Elle their special story. He said: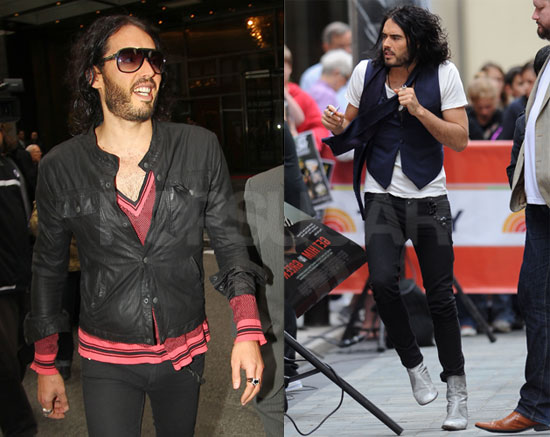 "My romantic magnum opus was my proposal to Katy in Jaipur, on New Year's Eve. We were picked up by horse and carriage, driven to a private garden where everything was lit by candles; we walked up a pathway lit by torches held by turban-wearing soldiers and were treated to a performance of traditional music and dance. We dined in a gazebo, the walls of which were covered with garlands. At five minutes to midnight an elephant arrived covered in flowers, and we got on his back. One of the things I'd overlook for the purposes of this romantic anecdote is that the back of an elephant is not a good place to be during a fireworks display; elephants have no real capacity to distinguish between fireworks and apocalypse. So after the blessedly short display, we were led up a staircase, and at the top was the ring."
To read more from Russell, check out his interview at Elle.com.