Pictures of Russell Brand Wearing a Wedding Band on His Left Ring Finger
Do You Think Russell Brand and Katy Perry Already Got Married?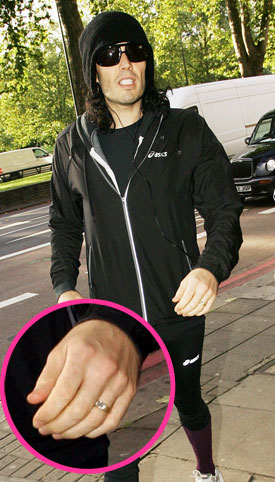 Russell Brand returned to his London hotel after a jog in Hyde Park earlier today. He accessorized his workout gear with a shiny accessory on his ring finger, which he's been wearing frequently. His sporting the band comes at a curious time, as many expected that he and fiancee Katy Perry would wed in India today. They're still in England, though, following her Sunday performance on The X Factor. While neither Russell nor Katy has spoken publicly about their wedding date, they both have already enjoyed their bachelor and bachelorette parties. Since the main event is shrouded in secrecy, tell us what you think of Russell's wearing a ring — do you think it means he and Katy already married?