Pictures of Ryan Gosling, Michelle Williams, Jennifer Lopez And More at The amfAR Party in Cannes 2010-05-21 09:15:00
Ryan Gosling Auctions a Kiss With Beautiful Michelle, Jennifer, and More Inside amfAR's Big Event!
The annual amfAR benefit brought out well-dressed celebs like Michelle Williams, Jennifer Lopez, and James Franco to pose on the red carpet, and the star-studded fun continued inside. J Lo took the stage in her pink Cavalli creation to entertain the crowd with Marc Anthony by her side, with Michelle Williams later stepping in front of the microphone and showing off her short dress. Ryan Gosling was the main attraction, though, as he auctioned off a kiss to a lucky lady, who was dressed as a man.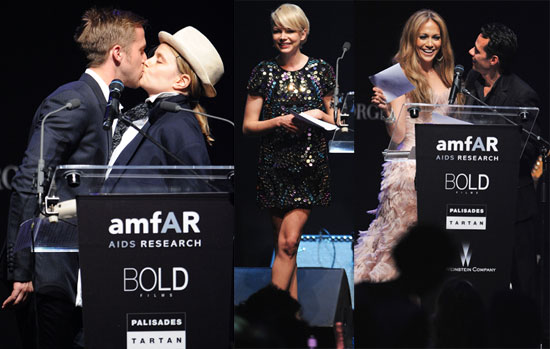 Kate Beckinsale wore Armani and a sweeping updo as she addressed the audience, along with Marion Cotillard and Benicio Del Toro. Emily Blunt, whose fiance, John Krasinski, is back in NY working on Something Borrowed, instead cuddled up to irresistible Ryan. The event's organizer Sharon Stone wasn't able to attend and instead delivered a video message, but her absence didn't get in the way of the night being a success and raising $6.7 million for AIDS charities.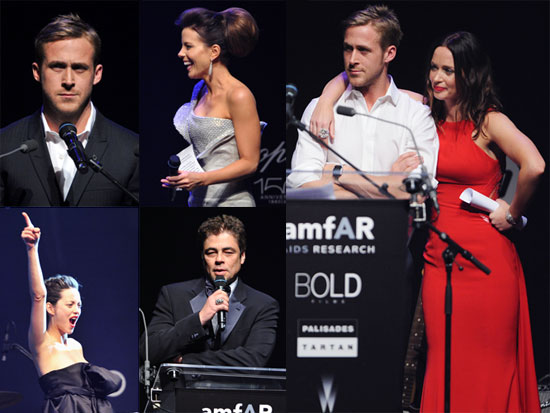 To see more from the event just
.
Images include: Jennifer Lopez, Marc Anthony, Mary J. Blige, Elizabeth Banks, Kate Beckinsale, Ryan Gosling, Michelle Williams, Rachel Bilson, Ryan Kavanaugh, Russell Crowe, Marion Cotillard, Patti Smith