Pictures of Ryan Phillippe Showing Skin at Deacon's Flag Football Game; Quotes From His MacGruber Press Junket
Ryan Phillippe Jokes Revealing MacGruber Scene Will "Haunt Me For the Rest of My Career"
Ryan and Ava Phillippe were on the sidelines Saturday to watch Deacon's flag football game in LA, as Reese Witherspoon enjoyed a kiss-filled meal with Jim Toth. The warm afternoon meant that Ryan stripped down to show off those arm muscles. Ryan wrapped up his weekend with Deacon and Ava in order to head to NYC, where he was busy today with the press junket for MacGruber. We got a chance to speak with him about his foray into comedy, and Ryan also opened up about his hidden talents and whether he thinks the movie is appropriate for his kids. He also shows some skin in the movie, and he gave a little background on how that came to be. Ryan said: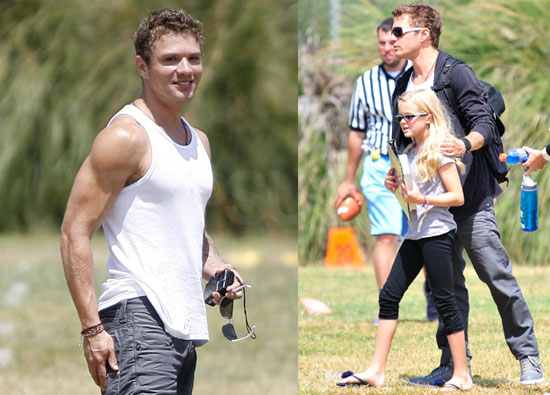 On being game to do his revealing scene: "It was in the script since the beginning . . . it was one of those things in the beginning where admittedly I was like, I wonder how tied to this moment [the producers] are. But after being on set with Will [Forte] and Kristen [Wiig] for a few weeks and seeing the lengths to which they would go to make the scene work and get the laughs — and Will was naked almost every day — I figured, what the hell . . . It'll haunt me for the rest of my career."
On how he tried not to laugh while shooting with Will and Kristen: "I would inflict pain upon myself. I would dig my fingernail into my thumb, or I'd bite the inside of my cheek. That was really the only way because the guy's a maniac in the best possible way. "
On his own hidden talents: "I can rap a little bit, and I'm a martial artist — I have a black belt in two different disciplines. And, I'm a dad! I'm a talented dad."
On letting Ava and Deacon see MacGruber: "No. No way! No way, not for a decade I think. They're 10 and 6 so it's going to be a while."
To see more Ryan with the kids and to see what he says about his involvement in the movie, doing more comedies, and moving away from his serious guy image, just
.
On moving away from his "serious guy" image: "If you're in this business for long enough, people develop this perception about who you are or what your abilities are. I think also I did tend to gravitate towards really serious. I always had the idea that I liked being in movies that push buttons or encourage some kind of conversation — not message movies, but I liked movies of substance. And I think I would be attracted to script and filmmaker. And I guess I am a serious guy in some ways, and that's just the path I got set on. Now I'm freeing myself up a lot more, I guess."
On getting involved in the movie: "I was just so excited because I was such a fan of Kristen's and Will's. I love the MacGruber character for starters, because he's just so flawed and ridiculous. So I was just really happy to be there. It was refreshing, because a lot of times on a dramatic film you carry the weight of whatever the material is, whatever the mood of the piece is, and here I was just laughing from morning until night. My only challenge was to not break in certain scenes — with Will in particular, because he's so out of control."
On wanting to do more comedies: "I definitely do. I'm in talks to do something comedic, I'm doing something for Funny or Die, I'm on a sketch comedy show that starts in September. It's fun for me — it's opened up this whole other aspect to my career, which is fun."