Pictures of Sandra Bullock at Spike Guys Choice Awards 2010-06-06 10:59:45
Sandra Bullock Steps Out Looking Gorgeous For Guys and the Troops!
Sandra Bullock was expected to make her big return to the spotlight at today's MTV Movie Awards, but she surprised everyone by stepping out a night early! She took the stage at yesterday's Spike TV's Guys Choice Awards in a tight leather dress and sporting a big smile. She accepted the Troops Choice honors for Entertainer of the Year, and she kicked things off with a little lighthearted humor about what she's been going through saying, "Let's be honest here, just for a moment. We're all going to be honest, right? Did I win this for being entertainer of the year, or did I win this because of the spectacular IED [improvised explosive device] explosion that became my personal life? No, it's okay. Because I would do it over again if it was to entertain our troops, and our extraordinary troops deserve something much more than some actress in a tight dress talking about herself." Sandra will be on stage again in a few hours when she is presented with the MTV Generation Award — it's amazing to see her sense of humor is still intact, and she looks better than ever! Check out the video of Sandra at the Spike event after the jump.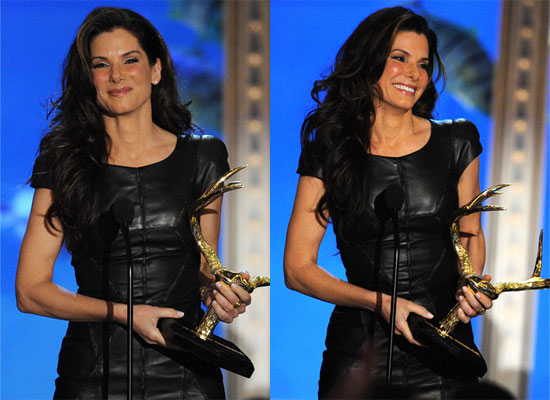 To see more photos of Sandra and video of her speech, just
.