Pictures of Sandra Bullock, Tom Cruise, Robert Pattinson, Kristen Stewart at MTV Movie Awards Show 2010-06-06 22:05:00
Sandra, Tom, and New Moon Rule the MTV Movie Awards!
The MTV Movie Awards red carpet was sunny and eye-catching and inside the action only got better. Sandra Bullock may have stepped out a day early with her Guys Choice appearance, but she saved the big guns for last night. She brought tears to our eyes and was greeted with a standing ovation as Bradley Cooper, Betty White, and Scarlett Johansson presented her with the Generation Award. Sandra also assured us that she's doing just fine with her famous sense of humor — watch video of her acceptance speech here. She even kissed Scarlett, giving Robert Pattinson and Kristen Stewart competition for favorite famous lip lock of the evening. New Moon cleaned up during the show, taking home five of the 13 awards — check out the full list of winners. Aziz Ansari skillfully hosted his way through the night, popping up in some funny spoofs that can be added to the pantheon of past skits and of course Tom Cruise played producer of the whole event as Les Grossman. His opening and of course that over-the-top dance with J Lo was amazing.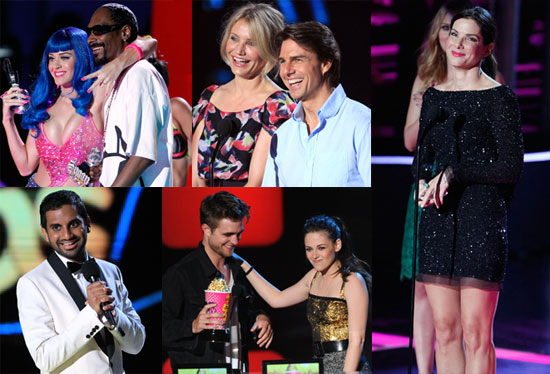 Katy Perry and Snoop Dogg performed the catchy Summer anthem, "California Gurls" while Christina Aguilera took on a medley from her album Bionic. Amanda Seyfried made cute comments when she got her golden popcorn for Jennifer's Body and Zac Efron cracked a few jokes of his own. He also had a "kiss cam" moment with Vanessa Hudgens, who stepped out on stage with Jessica Alba. Knight and Day costars Tom Cruise and Cameron Diaz presented the Best Movie to the Twilight crew, and a few of Peter Facinelli's many f-bombs slipped past the censors for the live feed — he later sort of apologized. In case you missed any of the highlights like the previews of Eclipse and Harry Potter as well as Tom and Jennifer's dance number, watch all the best clips here and stay tuned for more Movie Awards coverage!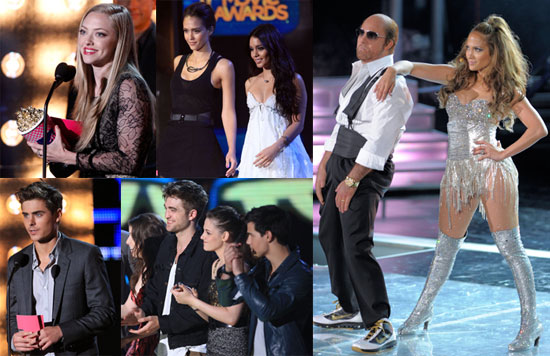 To see more from the show, just read more.
Images include: Cameron Diaz, Tom Cruise, Jessica Alba, Vanessa Hudgens, Katy Perry, Robert Pattinson, Kristen Stewart, Taylor Lautner, Aziz Ansari, Anna Kendrick, Peter Facinelli, Snoop Dog, Diddy, Jonah Hill, Russell Brand, Amanda Seyfried, Zac Efron, Christina Aguilera, Sandra Bullock, Paul Rudd, Steve Carell, Bradley Cooper, Betty White, Scarlett Johansson