Pictures of Sarah Jessica Parker, Kim Cattrall And Kristin Davis Promoting Sex And The City 2 in NYC 2010-05-17 07:00:00
SJP and Her SATC Ladies Talk Tummy Issues and Camel Rides!
Sarah Jessica Parker and her Sex and the City 2 costars had a busy weekend of press, starting on Friday when she was decked out in Proenza Schouler for a carriage ride in Central Park with Billy Bush. Saturday afternoon was more casual, though, and SJP was spotted in pants on her way out of a hotel with Kim Cattrall and Kristin Davis. The trio joined Cynthia Nixon, Chris Noth and their director Michael Patrick King yesterday for a press conference held appropriately in the shoe department of Bergdorf Goodman. Amid racks filled with Manolos, Louboutins, and more, they opened up about their film and the fun times they had working together once again. Here are highlights: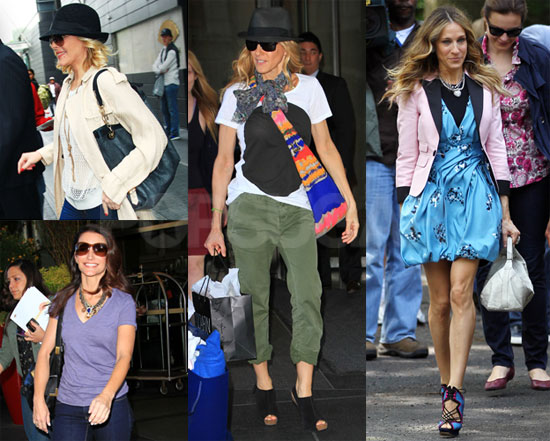 SJP on the issues facing Carrie this time: "There was a wedding, and now there's a marriage — and the two are very different. I think Carrie finds herself starting to ask questions about the environment in which she currently lives. And the big theme of the movie for all of us is tradition — why do we run toward it and why do we push it away . . . how do we redefine tradition for ourselves?"
SJP on filming in Morocco: "It was one of the great experiences of my professional life to live and work with this cast and crew every single place, to see the sun rise and set in the most far-flung places, to lie in a bed all day with these women exhausted and laughing — to be on a camel with Kim Cattrall . . . [Kim says, "Not many people can say they've done that!"] It was indescribably wonderful."
Kristin after SJP outed her for a gastrointestinal problem in Morocco: "I still have to deal with the first movie on a daily basis! So give me a break now everybody!"
Michael Patrick King on filming in NYC: "We had NYC, which was here in Bergdorfs, with thousands and thousands of people watching and supporting. It was like an interactive theater piece. The girls go to talk, everybody shuts up, I say action, lines, cut, applause! I call that the celebrity petting zoo. Every now and then someone breaks through and we have to stop and get everyone back behind the barricade."
To see more photos of the SATC ladies and to read what they did for Thanksgiving with James Wilkie and what Kim and SJP think the series has meant to fans just
.
Kim on what she loves about the series: "The most powerful thing for me is that we've encouraged a lot of women to change the way they feel about being single, having cancer, all the story lines about getting married and then being deserted, being alone, then being lonely — I think we've addressed them and encouraged them to come together, and I think that's a very powerful thing."
SJP on what she thinks the series has meant to fans: "I tend not to ponder too much on what we may or may not have done because I like hearing from other people what they think. But I will say there seems to be this beacon we're moving towards where women are really unkind to each other and call each other all sorts of horrible names, and there's a vernacular that our ears have adapted to, which I find really objectionable. I really really love how these women [of Sex and the City] love each other."
Kristin's favorite memory: "We were together and we got two Thanksgivings! We worked on the actual day because in Morocco they obviously don't celebrate Thanksgiving. On the day itself, our fantastic English caterers made this American Thanksgiving for us which they thought just the Americans would want to eat but then everybody wanted to eat it and we ran out of apple pie and pumpkin pie! And then Cynthia and Sarah's sons came to visit for the weekend so we decided we'd have another Thanksgiving at our hotel! They did a fantastic job and we had snake charmers come for the boys because we were in Morocco."