Pictures of Sarah Jessica Parker, Kim Cattrall And Kristin Davis at The Sex And The City 2 Premiere in NYC
It's a Bright Night For SJP, Kristin, Kim, and Cynthia at the NYC Premiere of Sex and the City 2!
The Sex and the City 2 gang was out in full force last night in NYC for the first premiere of their film before Thursday's London event. The evening was all about the Big Apple and, of course, the four main ladies and their amazing fashion — Sarah Jessica Parker was in a bright yellow Valentino couture gown with her husband Matthew Broderick by her side, while a similarly neon-wearing Kristin Davis picked a Jean Desses number. Cynthia Nixon opted for black strapless Carolina Herrera, and Kim Cattrall was in a sparkly Naeem Khan. SJP spent a long time signing autographs for the impressive amount of fans gathered at Radio City Music Hall before heading to the blue carpet. Kristin, meanwhile, opened up about reuniting with her costars in the film, saying it was great fun and that she and SJP actually talk all the time!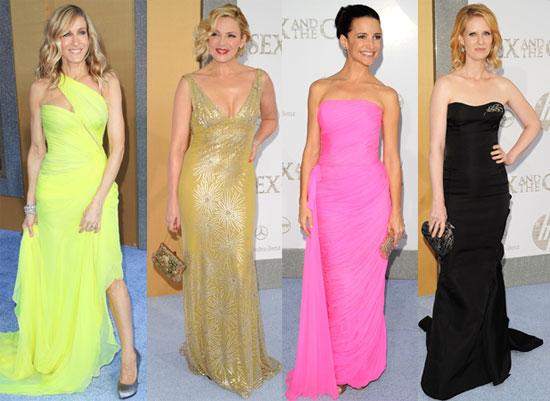 Willie Garson, aka Stanford Blatch, echoed the sentiment — he told us that he and Sarah Jessica talk on the phone practically every day. His and Mario Cantone's characters tie the knot early on in the movie, and Mario said the whole set was infused with lots of love and happiness with their all being back together. John Corbett looked handsome as ever all suited up, and his longtime love Bo Derek hung behind the reporters just smiling and supporting her man. He said that, despite his SATC fame, he's still able to walk down the street like a regular guy — he and Bo, though, are planning on spending the Summer away from the crowds and off riding horses at their ranch. Chris Noth made it a date night too, with his fiance Tara Wilson scooting into the theater before the crowds got too thick.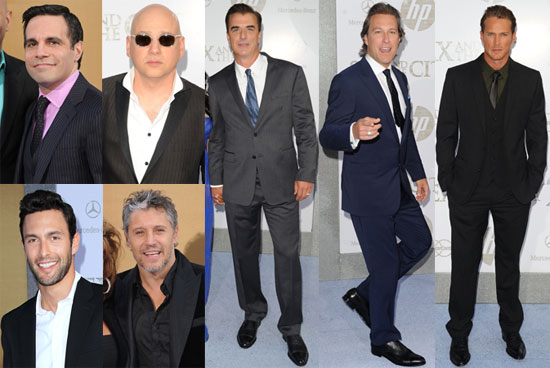 Jason Lewis has a brief cameo in the project, and he spoke about being grateful to be included again. He doesn't feel threatened by Samantha's new love interests played by male model Noah Mills and the actor Max Ryan. Noah said that his impressive abs were probably a factor in getting the job, while Max Ryan said he was a little nervous about his required sex scene. Stay tuned for lots more from the exciting, star-studded night on today's PopSugar Rush and don't miss any of our Sex and the City 2 wardrobe, beauty, food, gadgets, and more coverage!
To see LOTS more of the SATC 2 premiere, just
.
Images include: Jennifer Love Hewitt, Sarah Jessica Parker, Kristin Davis, Cynthia Nixon, Kim Cattrall, Chris Noth, John Corbett, Whitney Port, Mario Cantone, Willie Garson, Liza Minnelli, Max Ryan, Noah Mills, Matthew Broderick, Vanessa Williams, Michael Patrick King, Candace Bushnell, Gabourey Sidibe, Jessica Szohr