Pictures of Sheryl Crow in a Bikini While on Vacation With Son Wyatt in the Caribbean
Sheryl Crow Hits the Beach in a Tiny Bikini With Son Wyatt!
Sheryl Crow was in a tiny yellow bikini earlier today when she hit the beach in the Caribbean with her young son, Wyatt. The 48-year-old mom looks great showing so much skin and is no stranger to breaking out her two-piece — she's gotten lots of practice during getaways to Cabo with her good friends Jennifer Aniston and Courteney Cox. This trip for Sheryl is a mixture of work and play, since she's scheduled to play a show tomorrow night at the Atlantis Hotel in the Bahamas. She'll then be on the road for much of the Summer, with stops all around the South before a detour to Canada. There won't be much time for her to check in at the Tennessee farm she just listed for sale, which features an interesting custom kitchen.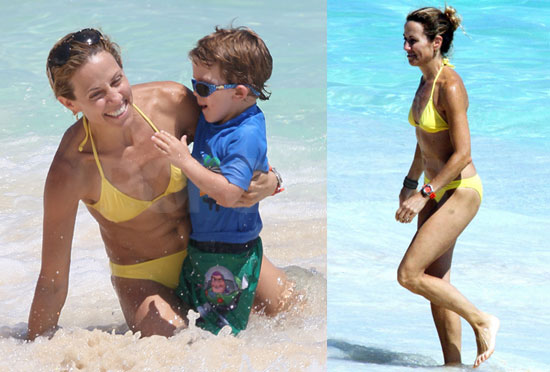 To see more of Sheryl and Wyatt just read more.