Pictures of Shia LaBeouf, Carey Mulligan, and Michael Douglas at the Wall Street 2 Premiere 2010-09-21 06:00:00
Shia Does the Late Show Solo, His Wall Street 2 Premiere Alongside Carey, and an Afterparty With Mary-Kate and Ashley
The stars of Wall Street: Money Never Sleeps gathered in NYC last night for their big premiere at the Ziegfeld Theater. Real-life loves Carey Mulligan and Shia LaBeouf walked the red carpet separately, but they caused a stir and screams from fans when they joined Josh Brolin, Susan Sarandon, and Michael Douglas for a group photo. Michael, who is in the middle of a battle against cancer, bravely turned out with wife Catherine Zeta-Jones to support his latest movie with director Oliver Stone. Shia lingered at the press line well after the screening began, seeming happy to shoulder the promotional duties for both himself and Michael. We had a minute to speak with Shia about his adventures in investing his own money, and he also spoke about working with Rosie Huntington-Whiteley on Transformers 3. He said, "She's great! This is going to be the best Transformers yet."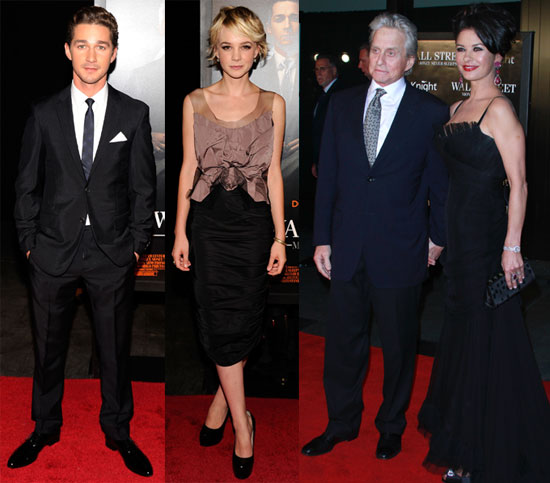 The gang moved on next to the afterparty at Cipriani on 42nd Street, where Mary-Kate and Ashley Olsen broke from their fashion duties and preparations for their Paris show to toast Carey. Mary-Kate and Ashley also had some celebrating to do after finally selling the NYC apartment they've had on the market for five years. Shia had previously started the day by ringing the opening bell at the New York Stock Exchange with Carey, then he went solo to keep the interviews coming at The Late Show. His chat with David Letterman airs on Friday, the same day their film hits theaters.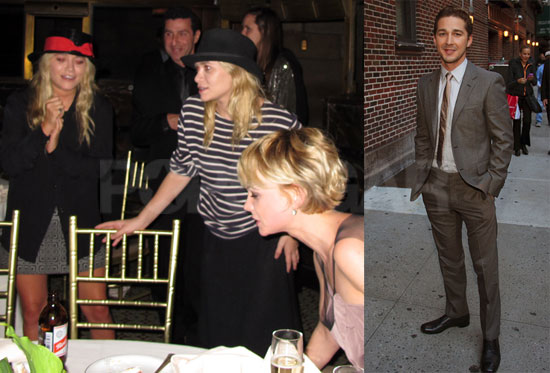 To see more Shia, just read more.
Images include: Shia LaBeouf, Carey Mulligan, Michael Douglas, Catherine Zeta-Jones, Susan Sarandon, Spike Lee, Tyra Banks, Courtney Love, Brett Ratner, Oliver Stone, Josh Brolin, Mary-Kate Olsen, Ashley Olsen