Pictures of Suri Cruise Wearing Pig Slippers With Katie Holmes in New York City
Katie and Suri Have a Hoppy Thursday With Bunny Ears in NYC!
Suri Cruise was furry from her head to her toes with bunny ears and piggy slippers in her mom Katie Holmes's arms for a playdate at NYC's Chelsea Piers today. Afterward, the girls headed out shopping, where they took turns wearing the Easter topper. Katie had her own loungewear yesterday afternoon on the set of Son of No One, where she also showed off her stylish Beats by Dr. Dre headphones. Katie has been busy filming with Channing Tatum, but she's also able to find plenty of time for fun things like tea parties and dance classes with Suri.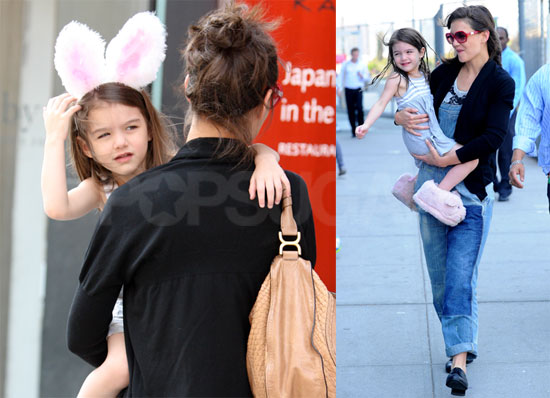 See more photos of Suri and Katie in NYC if you
.