Pictures of Tom Brady With Son Jack in LA Before Returning to Foxboro
Tom Brady Prioritizes the Jack and Ben "Balancing Act"
Tom Brady carried Jack during an afternoon out in LA together on Saturday, though this time they weren't joined by Gisele and baby Benjamin. The big boys time followed an early morning relaxed press conference where Tom spoke to the media about his upcoming charity event the Best Buddies Challenge, reuniting with the Patriots this morning in Foxboro, and having a different set of priorities these days. Tom said, "It's a balancing act. I don't want the next 10 years to go by and to say I wasn't there for my sons. I wish I could be there [in the offseason] the way I was when I was 24, but life is different now. Things actually are much more simple than they've ever been. I used to spend every weekend running around with friends. Now I've got two great kids, and I love spending time with them. [Ben] is usually up at 6 in the morning, so that's when the day starts now.''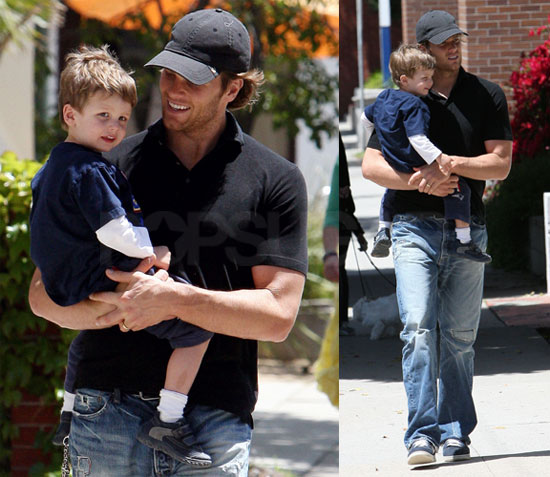 To see more of Tom and Jack just
.