Pictures of Tom Cruise, Suri Cruise, Isabella Cruise, and Connor Cruise Shopping at FAO Schwartz in NYC
Tom Takes Suri Toy Shopping While Katie Gushes About Their Real-Life Romance
Tom Cruise continued his day out with Suri, Isabella, and Connor in NYC, taking the kids to FAO Schwarz this afternoon and showering his littlest one in kisses. Tom and his two older kids spent the morning entertaining Suri in Central Park while Katie promoted her new movie The Romantics. We were there for the film's press conference today, where Katie dished on the project, as well as on her real-life romance with Tom. She said: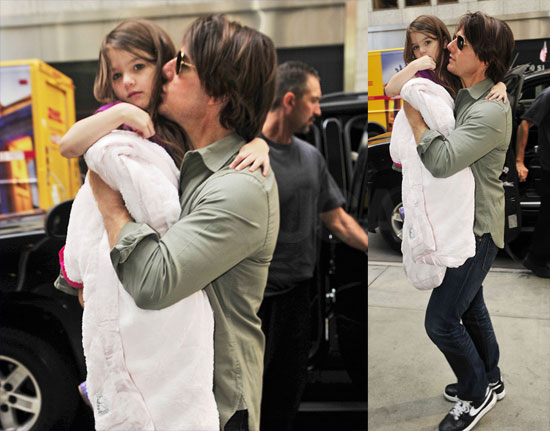 On Tom's romantic side: "My husband has red roses for me everywhere I go."
On what drew her to The Romantics: "I really loved the script when I read it. It felt a lot like The Big Chill and St. Elmo's Fire and also a little bit of a John Hughes feeling, and I always loved those movies growing up. Then I met with [director Galt Niederhoffer] and I thought she was so smart, and the cast started coming together and just the feel of it, the look of it and the people that were involved in it was really exciting."
On being an executive producer: "Lots of cupcakes and coffee, that was really the extent of it! I was really flattered when I was able to have this position. I just tried to help when I could and sort of cheer people on. I actually used this time to learn even more from everyone, from the producers and the director, so it was really wonderful and I really appreciated that."
To hear more from Katie on her new movie and her family, just read more.
On her costars: "It was great to work with this wonderful cast and director. I was floored by the performances. These guys are such incredible actors. It was really inspiring every single day because you'd watch somebody else do a scene and you'd be like, 'OK, wow. I didn't know that was what it was about.' They brought something so different and wonderful. It was such a great time, I think that's why we all still hang out and we go to dinner often and we're a tight-knit group."
On being real with her friends and family: "When you have real friends, you can be your true self, and people love you for it. I think that's what feels good about watching this movie and what felt good being in this movie and portraying these people — people who are real and have their ups and downs and they have this family around them that has been through it all. And if you're lucky to have people like that in your life, it's wonderful."
On keeping a thick skin in Hollywood: "I think that you just never give up, you keep going because making films can be very challenging and you just have to keep pushing."
On theater: "I loved doing Broadway; it was so much fun. I loved the cast and the community was so wonderful and welcoming. I enjoyed every single night. I can't wait to go back to the theater soon."