Pictures of Victoria Beckham Out in London
Victoria Takes London While Soul Mate David Stays in LA
Victoria Beckham was a bright sight this morning when she left her London hotel. She arrived in England on Sunday after spending Saturday in LA with her boys, watching as they perfected their skating at a park. David stayed behind in California, and he took the field with the Galaxy over the weekend to thrill fans once again by going shirtless. He's focused on soccer for the moment, but David's also rumored to be launching a line of underwear following his success as a model for Armani's briefs. David and Victoria aren't strangers to talking about their work, but they recently gave a particularly revealing interview to Britain's Hello. They shared all about their romance, date nights, and dealing with the downsides of fame. They said: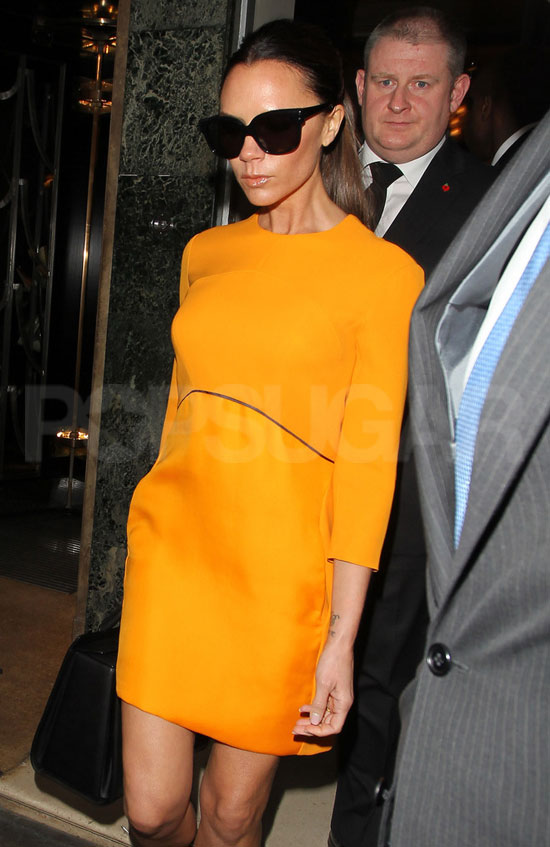 Victoria on dealing with rumors about their relationship: "We're soul mates. Sometimes people throw s*** at us but we get through it. You deal with it, or you don't. You go into a marriage knowing there are going to be ups and downs. We're in the public eye so we have more to deal with than most. We accepted that years ago. It's just about us and the family."
David on their date nights: "We always make time for each other. We have a 'date night' every Wednesday."
Victoria on their kids learning sign language: "Of course the first thing Cruz, who is five, wanted to learn was how to say 'I have wind' and the 's' word. He also wanted to know what other swear words were!"
Victoria on the side effects of Romeo's getting a cell phone: "We got a message from Tana Ramsay saying 'We don't mind but Romeo's been phoning the house in the middle of the night asking to speak to our kids.'"