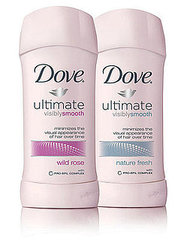 Stubble, red bumps, nicks, and scratches — these are just a few of the things that stand between women and Summer-ready underarms. No need to panic! Just in time for warm weather, Dove is introducing a new at-home beauty treatment to help care for your underarms — The PitiCure™.
A PitiCure is to your underarms as a pedicure is to your feet. To help women properly care for their underarms and prevent unwanted irritation, try this new at-home beauty treatment. It involves a simple three-step process developed by Dove that cleanses and cares for the skin, and helps minimize the look and feel of underarm hair over time. Genius, right?! The key element in the PitiCure is new Dove Visibly Smooth anti-perspirant/deodorant. Its unique formulation containing Pro-Epil Complex with natural extracts and Dove 1/4 Translucent Moisturizers™ helps women feel stubble-free for longer. Of course, it still delivers the 24-hour odor and wetness protection you've come to expect from Dove deodorant.
A PitiCure is so simple you can do it at home and make it part of your daily beauty regimen — to learn how read more
Step One: Use a gentle exfoliating scrub or wipe to clean underarms. This can help remove impurities that cause irritation, unsightly ingrown hairs, and red bumps.
Step Two: Rinse off and gently dry underarms with a towel.
Step Three: Apply Dove Visibly Smooth anti-perspirant/deodorant. With continual use, hair will be less noticeable and feel softer, finer, and easier to remove.
Repeat the PitiCure as part of your beauty routine to draw out impurities and prevent unwanted irritation. Use Dove Visibly Smooth deodorant daily to minimize the look and feel of underarm hair over time.
Dove is offering free PitiCures by trained and licensed professionals in Los Angeles, New York, and Philadelphia:
— The Grove in LA, 6/10/09 – 6/14/09
— South Street Seaport in New York, 6/24/09 – 6/28/09
— King of Prussia Mall in King of Prussia, PA, 7/8/09 – 7/12/09
Dove Ultimate Visibly Smooth comes in two new scents, Wild Rose and Nature Fresh, and can be picked up at your nearest drugstore or retail outlet. For women who need the added wetness protection of a prescription-strength product, try Dove Visibly Smooth Clinical Protection in Wild Rose.
Visit dove.com/visiblysmooth to learn more about how to do a PitiCure at home or find out more information on PitiCures happening in your area.
Click here to download a $2 off coupon for Dove Visibly Smooth deodorant.