Play 2011 PopSugar 100 — Are You Surprised at the Results?
Robert, Emma, and Kate: The 5 Most Surprising Results of the PopSugar 100 So Far!
The 2011 PopSugar 100 is gaining momentum, and your votes have resulted in some surprising upsets! The competition is divided into 12 categories, and you've been given the task of creating your top 10 list in each. Here are the top five most shocking results — there's still time to vote so don't forget to fill out your lists and share them on Facebook to earn a chance to win one of four amazing prizes! It looks like two-time winner Robert Pattinson might be in for an upset, while Britney Spears and Emma Watson's fans have pushed the two beauties to the top of a number of lists!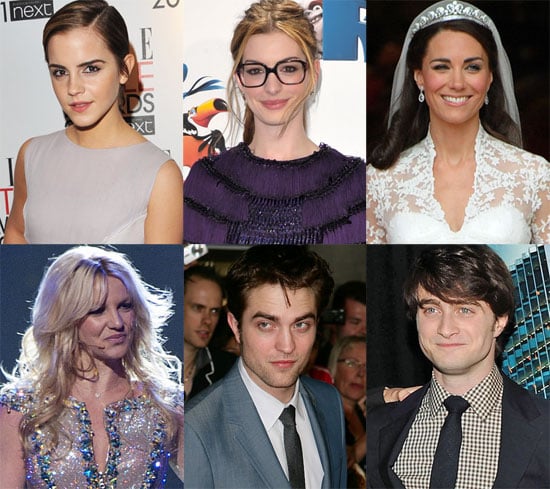 Emma Watson

— she's beating

Angelina Jolie

,

Megan Fox

, and

Beyoncé

in the race for sexiest female celebrity.

Anne Hathaway

— the actress is running away with the dream girlfriend title over A-listers

Jennifer Aniston

and

Kate Hudson

.

Kate Middleton

— the duchess has capitalized on her royal

wedding

popularity and is currently ranked as your number three celeb style favorite.

Britney Spears

— the singer surged forward over the weekend, and she's now holding down the top spot in two categories, favorite celeb mom and favorite recording artist.
Harry Potter reigns supreme —

Daniel Radcliffe

,

Emma Watson

, and

Helena Bonham Carter

are dominating the favorite imports over Twilight stars

Robert Pattinson

,

Xavier Samuel

, and

Michael Sheen

. Two-time PopSugar 100 winner Rob isn't completely out of the running since he's holding on to the number one position among your favorite vampire and werewolves and sexiest male celebrity.
Of course, the PopSugar 100 is also your chance to win prizes, and in partnership with Portero.com, we're offering up four luxurious items! Winners are eligible to win one of the following: a Chanel bag, an Hermès Kelly bag, an Hermès CdC cuff bracelet, and a vintage Rolex watch! The more lists you complete and share, the more times you are entered — check out the official rules here.