Play Our ShopStyle Scavenger Hunt to Win $500 This Week, $5,000 For August!
To help you get that jump start on your new Fall wardrobe, we're having a fun contest every week for five weeks. Each Tuesday morning, we'll tell you what key items to search for on ShopStyle to include in our "PopSugar Fall Wardrobe" group.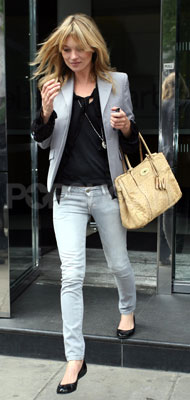 Kicking off round four of our Fall wardrobe contest, this week we're keeping the ball rolling with a fitted blazer, flats, and a long necklace — use Kate Moss's put-together look as inspiration. For this week, just follow these easy steps:
Log into your profile on ShopStyle (remember, if you have a TeamSugar profile, you have a corresponding one on ShopStyle)
Create a look by picking your favorite fitted blazer, flats, and long necklace for this Fall season
Add the look to the "PopSugar Fall Wardrobe" group
. . . and you will be entered to win $500 this week! Continue adding the specified items from each of our challenges for the next two weeks, and be entered to win the grand prize of $5,000 to buy anything on ShopStyle.
If you're joining the challenge late, no worries, just go back to the previous posts and complete the challenges in your StyleBook, and you will be entered to win the $5000 grand prize!
Be sure to include items from a variety of retailers, since being able to shop all your favorite brands in one place is what makes ShopStyle so genius.
To see all the official rules, click here.