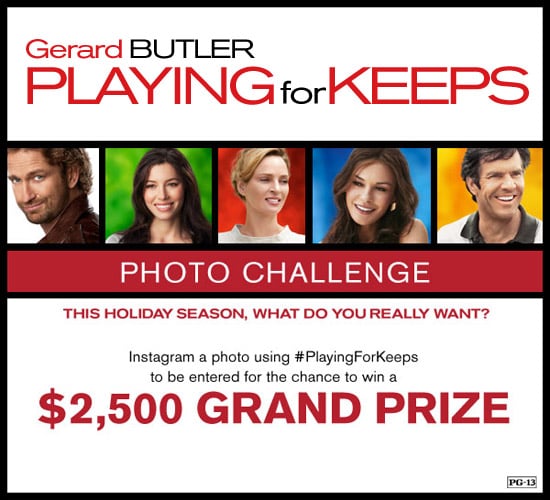 This holiday season, what do you really want? Is it those sumptuous suede booties you've been eyeing in the department store window? Is it getting the whole family together for the first time in years? Or is it that big, beautiful diamond — and equally stunning proposal — you've been dreaming of since childhood?
Whatever is topping your wish list, you'll find yourself in good company with the Dec. 7 release of Playing For Keeps, the must-see romantic comedy of the holiday season about a down-on-his-luck former soccer star (played by the smokin' hot Gerard Butler) who returns home to put his life back together. Featuring an all-star cast including Jessica Biel, Uma Thurman, Catherine Zeta-Jones, and Dennis Quaid, and directed by Gabriele Muccino (The Pursuit of Happyness), it's a story about figuring out what you really want in life and going after it — whether it's a bold, new career move, a date with the hottie soccer coach, or the one true love of your life.
Show us how you're Playing For Keeps this holiday and you could earn some extra purchasing power to fuel your dreams! Instagram a pic of what you really want — one grand prize winner will receive a $2,500 Amazon gift card and 10 first prize winners will receive a $250 Amazon gift card.
How to enter:
Take an Instagram photo of what you really want this holiday season, like time with your family, a relaxing day at the spa, or that sparkling new diamond ring.
Use #PlayingForKeeps on your photo to enter for a chance to win.
Good luck!


Official Rules