The PopSugar 100 Is Here!
After months of tracking, we are proud to announce the 2007 PopSugar 100 List. Over 4 million of your votes were cast based on each celebrity's likeability, talent, style, class, looks and, of course, the Pop Factor. Brad Pitt reigned supreme, grabbing the #1 spot on the list, with Angelina Jolie trailing right behind at #2. Love them or hate them, there is never a lack of stories about these two, and when we write about them you all have something to say. Rounding out the Top 10 are Oprah Winfrey, Madonna, Tom Cruise, Britney Spears, Jennifer Aniston, Julia Roberts, George Clooney and Johnny Depp.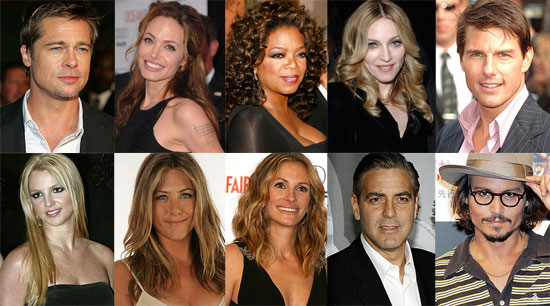 From Scarlett to Simon, Lohan to Letterman, and Jennifers and Jessicas galore, the PopSugar 100 runs the gamut of today's hottest celebs. To see the full list of the PopSugar 100 according to you, just click here! Thanks to all of you for voting. We already can't wait to see who is on top next year!