PopSugar Dream Date Giveaway of Victoria Beckham Sunglasses
Tweet at PopSugar and Win a Pair of Victoria Beckham D-Frame Sunglasses!
We may still be in the middle of Winter, but we're already looking forward to the bright sunshine of Spring here at PopSugar. If you're not lucky enough to be able to escape the gloom and head to the beach like Jennifer Aniston or Cameron Diaz, you can still get ready for the rays with some hot new sunglasses. We're giving away a pair of Victoria Beckham D-frames to one lucky reader so that you can accessorize in style like all the hottest celebrities. All you have to do is become a follower of PopSugar on Twitter and tell us who your dream Oscars date is before the big show on Sunday! Want more details on how to win? Then keep reading!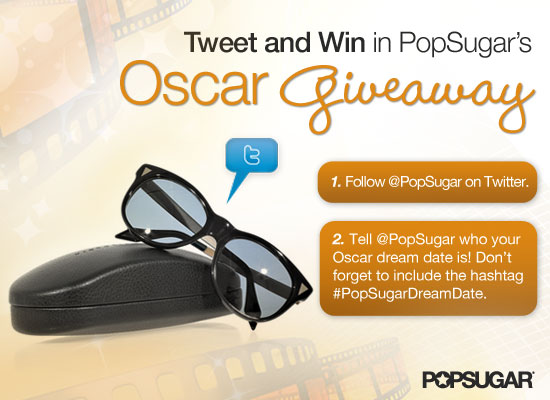 Then tell us who your dream Oscars date is by tweeting at us. Include the following message and hashtag to qualify: "Hey @PopSugar My Oscar dream date is _____" http:/tinyurl.com/4fzlthg #PopSugarDreamDate
To be eligible, you must be a Twitter user following PopSugar, but hurry — the giveaway ends on Feb. 27! Check out the full list of rules here, and start tweeting!