PopSugar Exclusive Interview With Emmanuelle Chriqui
Catching Up With Emmanuelle Chriqui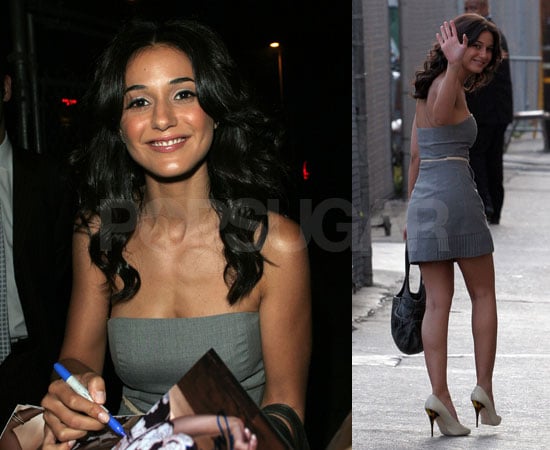 0
Catching Up With Emmanuelle Chriqui
Last year we had the opportunity to interview the fabulous Emmanuelle Chriqui, and we were lucky enough to chat with the actress again this week. She's been super busy promoting You Don't Mess With The Zohan all over LA, including a stop by Jimmy Kimmel Tuesday night. We got the scoop on everything from working with big names in Hollywood, to returning to Entourage, to being a big environmentalist. She was also nice enough to share a few of her fashion and beauty secrets, so be sure to head over to Fab and Bella to check it out. Here's a preview of what she had to say:
On working with Adam Sandler: "Oh my God, he is so incredible. I can't say enough good things about Adam, he constantly impresses me. He is the most grounded, real person ever. It's the weirdest thing, and to kind of be as iconic as he is, he never loses what his priorities are — like his family and friends, being a good person and it's amazing to see that in Hollywood. You kind of wish everybody was like that. "
On being green: "I am a huge environmentalist, and I drive a Prius. I'm a part of the Environmental Media Association, and I think it is the coolest thing in the world to be green. I really do, I think it is especially important for young people to just sort of jump on that bandwagon because this is our world, we have the chance to save it or kill it. I just think it is majorly important. It is something I am passionate about — it's not uncool to be green. It is the opposite!"
To read the full interview where Emmanuelle talks about working on Cadillac Records, the boys of Entourage and lots more, just
.
PopSugar: Adam Sandler's not the only big name you are working with these days. Tell us about Cadillac Records?
Emmanuelle: I am so excited about that movie. Just because it was a script that I read that I totally fell in love with. It's just an amazing story about musical history that shaped everything — music as we know it today. And of course working with Adrien Brody and Jeffrey Wright was ridiculous, I would have paid to do that movie!
PS: How about Patriotville?
Emmanuelle: We did a re-shoot on Patriotville, I'm actually really grateful for it because we got to fine tune a lot of things. I haven't seen the new version yet, but apparently they are pretty happy so hopefully that will be something that will be coming out in the future.
PS: Do you like doing the more comedic role or like the dramatic stuff better?
Emmanuelle: You know, I love them both, they are such different experiences, but ultimately both totally exhilarating. I think what it is is when you work with someone who is at the top of their game, whatever their game is, it is just an amazing experience —like working with Sandler and Rob Schneider and John Turturro who are seasoned comedians, it is so amazing as an actor when you feel like you have to step up your game, like you are being challenged just by the company your holding. It's just awesome.
PS: Do you miss the TV work or do you really like the movies right now?
Emmanuelle: I love the movie stuff, my dream was also to be doing film, but having said that, Entourage was not only the thing that totally changed the direction in my career, but you know I miss the show. I miss the guys. I'm going to be going back for one episode this season. It remains sort of open between E and Sloan — who knows what is going to happen. But like I just think cable shows, generally speaking, are not like regular television, and working with HBO and Entourage — a critically acclaimed show — you know, that show always felt like making a movie. We were always on location. And even in the way that they had premieres for the show, it always felt like it was more of a movie than a TV show.
PS: Do you keep in touch with the boys at all?
Emmanuelle: Yeah, well, in particular Kevin Connelly who is truly one of my best friends. We talk all the time. They are like my brothers. You know, the other day, it was really funny — I had a meeting in Beverly Hills and as I was leaving I saw this film crew and I was like, "Oh I wonder if that is Entourage?" And then I saw our prop master and it was! And then I see Kevin standing at the curb and was like, "Kevin! Hey!" So I walk over and it was like the sweetest thing, like one by one all the boys came over and said hello. It was just like a family, truly like a family. And you know, even though I am not a regular on the show, I never feel like, "Oh what is she doing here?" It's always like, "Oh yay!" It's just a really nice thing.
PS: They seem like really nice guys, but you know, it's nice to hear that they actually are.
Emmanuelle: Yeah, they are, they are really amazing.
Thanks to adorable Emmanuelle for taking the time to talk to us again. We can't wait to check out her upcoming films and are already excited for her return to Entourage!