PopSugar Poll: Cameron Diaz Talks Sex With Men and Women in Playboy — Does That Make You More Interested in Her Professional Wor 2010-06-16 12:05:00
Cameron Diaz Talks Sex With Men and Women in Playboy — More Power to Her or TMI?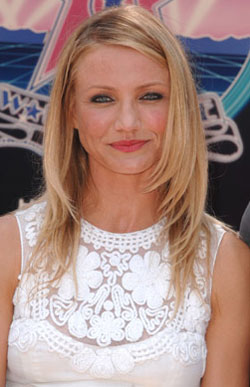 Cameron Diaz is off in Europe promoting Knight and Day with costar Tom Cruise, and she's also been busy sharing about their project in print interviews. She's on the cover of July's InStyle and granted a revealing interview to Playboy. She touched on her desires, as well as about her attraction to women. Cameron said:
On her sexual instincts: "I'm primal on an animalistic level, kind of like, 'Bonk me over the head, throw me over your shoulder. You man, me woman.' Not everybody has the right kind of primal thing for me...I love physical contact. I have to be touching my lover, like, always. It's not optional."
On women: "Sexuality and love can be different things. I can be attracted to a woman sexually, but it doesn't mean I want to be in love with a woman. If I'm going to be with a woman sexually, it doesn't mean I'm a lesbian. We put these restraints and definitions on people, but it's hard to define."
Cameron isn't known for being particularly shy, but her quotes to the magazine seem to be pushing the envelope more than usual. She's obviously trying to drum up attention for her Summer blockbuster with Tom, but tell us what you think — more power to her or TMI?