PopSugar Poll: Christina Ricci Gushes About Working With Rob — Good For Her or Little Bit Jealous? 2010-08-12 11:30:15
Christina Ricci Gushes About Working With Robert Pattinson — Good For Her or Little Bit Jealous?
Christina Ricci was out on the town in LA last night at a party for the new BlackBerry Torch, and the press was naturally interested in her upcoming film Bel Ami and her hot costar Robert Pattinson. She had nothing but kind words for her former colleague — Christina spoke about how they goofed around on set and even revealed details about Kristen Stewart's visit to their set in Hungary. Christina said: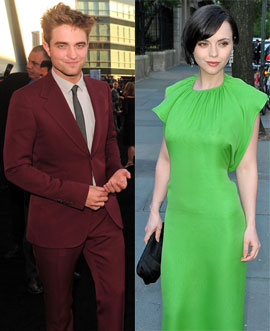 On working with Rob: "It was really fun, I mean just aesthetically we wore amazing costumes and hair and make up was great. And working with Rob was amazing. He's such a great guy, so talented."
On their chemistry: "He's just great. We'd just make fun of each other the whole time, like 'oh my god we're so goofy' or 'my accent is so bad!'"
On Rob's kissing skills: "Um yeah — he is pretty much awesome."
On Kristen's visit: "Yeah she visited. I love her, she is totally sweet. And he is great!"
On understanding Twi-hard love for Rob: "I understand where they're coming from. He's an awesome human being. He's so funny and quirky and weird."
Christina seems to have had a blast getting to know Rob, so tell us what you think of her comments — good for her, or are you a little bit jealous?