Pope Francis on Gay Priests
Was 2013 the Biggest Year Yet For Gay Rights?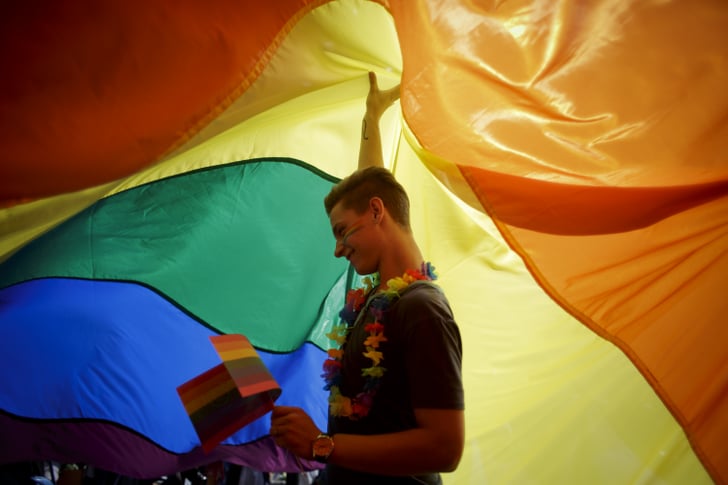 When we look back at the history of the gay rights movement decades from now, 2013 will surely be considered a landmark year right up there with 1969, the year the Stonewall Riots gave birth to the movement. Just this week, former President George Bush Sr. attended a same-sex wedding as an official witness. And the first openly gay judge was confirmed by the Senate on Tuesday to the prestigious US Court of Appeals for the Federal Circuit. Earlier this Summer, the Supreme Court threw out the Defense of Marriage Act and Pope Francis discussed gay clergy by saying, "Who am I to judge a gay person of goodwill who seeks the Lord?" It's clear acceptance of the LGBT community is steadily increasing. There's still a long way to go, but let's look at recent major accomplishments in the global gay rights movement. Just read more.
Changing Public Opinion
Remember back in March when your Facebook feed was filled with red and pink equal signs in support of gay marriage? That was just one visible sign that public opinion is shifting. Gallup pollsters found this year that support for marriage equality has solidified above 50 percent in the US. The 53 percent of Americans who support it in 2013 compare to 44 percent in 2010 and only 27 percent in 1996. And just today, a new poll came out that says 52 percent of Americans back a law to legalize gay marriage nationwide.
International Victories
In July, Britain became the 15th country to legalize gay marriage after a bill cleared Parliament and Queen Elizabeth II signed it into law. We're seeing more and more wins for marriage equality around the world, with countries including Uruguay, New Zealand, and France all legalizing gay marriage this year. Still, there's a long way to go, especially considering that gays are persecuted in places like Russia and homosexuality is punishable by death in some Asian and African countries.
The End of the DOMA Era
Following the Supreme Court's June decision against the Defense of Marriage Act, the federal government will have to recognize same-sex marriages in states that allow them. This means many gay spouses will have access to federal benefits that will impact their everyday lives. The death of DOMA's Section 3 capped off growing public dismay over the law that defined marriage as between a man and a woman for federal purposes. For example, former President Bill Clinton, who supported the law when he signed it in 1996, came out against it, as did President Barack Obama, who said in 2012 that his position on gay marriage had "evolved" and he now personally supported it. In addition, Republican Sen. Rob Portman made headlines when he said his gay son helped him change his mind to support gay marriage. And 75 prominent Republicans asked the Supreme Court to support gay marriage ahead of the landmark ruling, showing the issue now has support across the aisle. And while it's still illegal in some states, gay marriage is legal in Washington DC and 14 states, including in California after the Supreme Court threw out Prop 8.
Religious Acceptance
Before Pope Francis's groundbreaking comments, Anglican Archbishop Desmond Tutu went even further at the UN's launch of a gay rights program in South Africa. He said, "I would not worship a God who is homophobic." Tutu, who also put the struggle for gay rights on the same level as the struggle against apartheid, continued, "I would refuse to go to a homophobic heaven. No, I would say sorry, I mean I would much rather go to the other place."
While the Catholic church is still far from advocating for rights like gay marriage and still considers homosexual acts a sin, Pope Francis's comments — "Who am I to judge a gay person of goodwill who seeks the Lord? You can't marginalize these people." — are more accepting than those of his predecessor, Pope Benedict XVI, who said men with homosexual tendencies should not enter the priesthood. Pope Francis's contrasting openness toward gay priests, however, signals a change that is definitely in line with the times.
Gay Athletes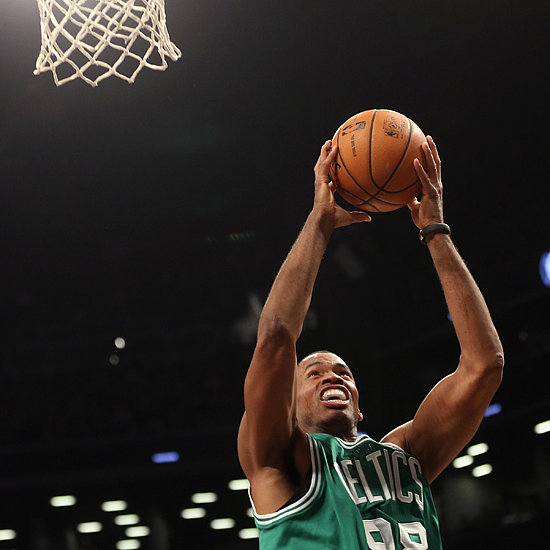 Just this month, Tom Daley came out using a YouTube video, saying he's currently dating a guy and couldn't be happier. Back in April, NBA player Jason Collins came out, becoming the first man on a major American team to do so. His announcement came on the heels of the WNBA's Brittney Griner coming out. And in August, WWE wrestler Darren Warren came out, too. As more and more athletes go public with their sexuality, they have inspired the sports community and their fans to become more open minded.
More Gay Role Models in Hollywood Than Ever

We've grown to love mainstay couples like Neil Patrick Harris and David Burtka, as well as Ellen DeGeneres and Portia de Rossi. This year, however, many new couples have added themselves to the mix as well. In July, Jesse Tyler Ferguson and Justin Mikita got married in NYC. Lance Bass took things to the next level with his boyfriend, Michael Turchin, when he proposed to him in New Orleans. To add to all that, a slew of stars came out of the closet this year, including Jodie Foster, Wentworth Miller, Raven Symone, The Biggest Loser's Bob Harper, and Skyfall's Ben Whishaw.
— Additional reporting by Ryan Roschke