Posh Designs Clothes, Tends To The Goal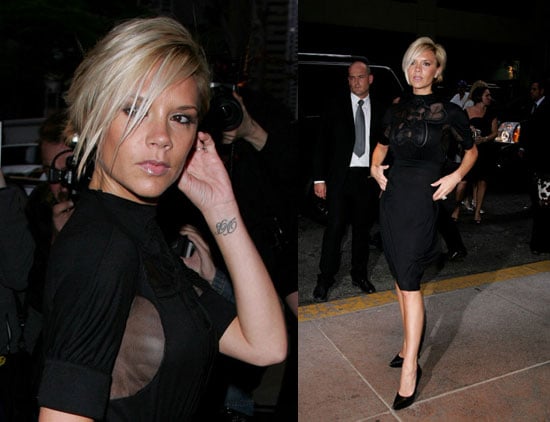 0
Posh Designs Clothes, Tends To The Goal
Victoria Beckham struck a pose and showed off her wrist tattoo bearing David's initials outside the Four Seasons Restaurant in NYC yesterday. Fresh off the launch of her new clothing line, Extra caught up with Posh to dish about her famous friends and family. Here's more:
On whether the rumors she tested her jeans on friend Jennifer Lopez are true, she says, "I didn't test my jeans on J Lo. She's a friend… she's supported my sunglass line… and she likes them, same as Katie."

About inspiring Katie Holmes' new haircut, Beckham comments, "I don't know… I inspire my friends… my friends inspire me. She's so strong-minded… she has a great sense of style… I think she looks wonderful."

Beckham's secret to staying in shape, she says, "They [kids] stand me in goal and all three of them kick footballs at me…David too… I dive from left to right and that's kind of about it as far as my fitness regime."
Posh is definitely a source of fashion inspiration to us, but sometimes even she follows the trends of others, even Mariah. It is hard to envision Posh fending off soccer balls in skinny jeans and stilettos, but perhaps she has a whole closet full of fabulous workout gear she's yet to model for us!
More of Victoria getting her picture taken so just